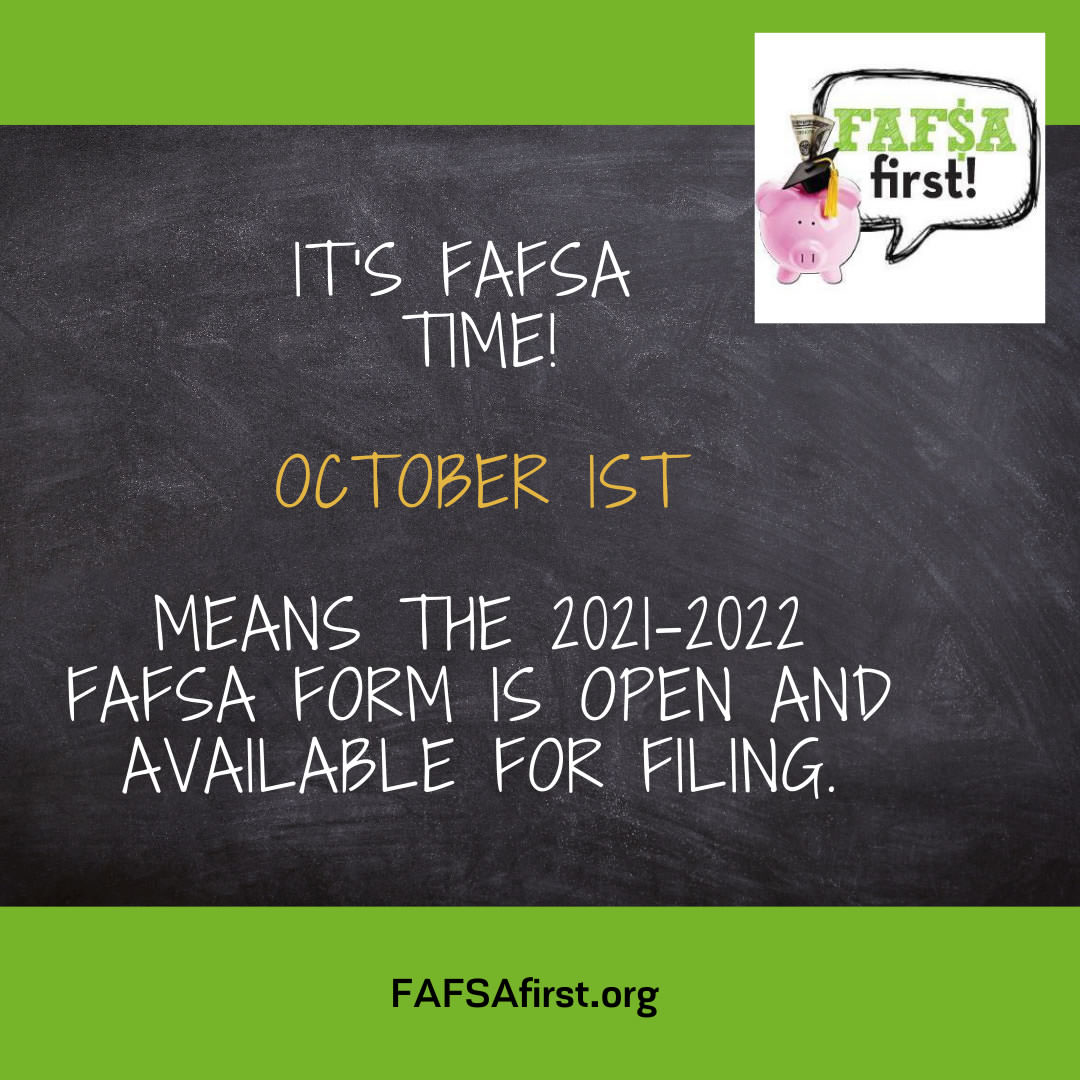 Largest provider of student financial aid in the nation
It's time for high school seniors and their parents in Charlotte, Collier, Glades, Hendry and Lee counties to fill out the Free Application for Federal Student Aid (FAFSA) by visiting www.fafsa.gov.
FAFSA is the only way to apply for federal student aid and is the largest provider of student financial aid in the nation. Each year, the federal government provides more than $150 billion in financial aid (grants, work-study and loans) for college and career school. To apply for this aid, every high school senior who plans to attend college or career school must complete the FAFSA. State governments and many colleges, career schools and private organizations also use FAFSA information to determine additional financial aid awards.
The FAFSA for 2021-2022 school year is available as of Oct. 1, 2020.  Parents and applicants can use their 2019 Income Tax Return information. The process is easier because you should already have your 2019 income tax information. You can even use the IRS Data Retrieval Tool to import your tax information directly from the IRS website into your FAFSA to avoid errors.
By filing the FAFSA and using accurate income tax information that is already available, students and parents will benefit by receiving financial aid award offers from schools sooner and can make informed decisions about college or career school affordability.
"In order to accomplish the goal of transforming Southwest Florida's workforce, FutureMakers Coalition partners are collaborating to improve access to post-secondary education by increasing the number of students filling out the FAFSA," said Tessa LeSage, FutureMakers Coalition Director, Southwest Florida Community Foundation, which is serving as the backbone organization for the FutureMakers Coalition. "Research shows FAFSA completion rates correlate with the percentage of workforce who holds degrees, certificates and high-quality credentials."
During the 2019-2020 academic year, the region had 5,373 students complete a FAFSA application, for a FAFSA completion rate of 42.3 percent. The FAFSA completion rate has steadily declined since the 2016-2017 academic year, and remains below the state FAFSA completion rate of 45.5 percent in 2019-2020. As a result, millions of dollars in financial aid are unclaimed by eligible Southwest Florida high school seniors each year. Research has also shown that students who were accepted into four-year colleges were much more likely to enroll if they had completed the FAFSA.
"We are committed to increasing the culture awareness and completion for FAFSA in our region, where students and parents know that the first step they need to take toward earning a degree or certificate is completing the FAFSA," said Patrice Cunningham, FutureMakers FAFSAfirst team volunteer and United Way Volunteer Center Director. "For many students, receiving financial aid can be the deciding factor of where, or even if, they attend college or career school. We want to help them take advantage of the resources that are available to them to pursue education beyond high school."
Visit https://www.futuremakerscoalition.com/fafsafirst/ to learn more about how to make the application process as easy as possible and for information and resources about FAFSA. Students and parents can also follow FutureMakers Coalition's FAFSAFirst on Instagram at FAFSAfirst, on Facebook at FAFSAfirst and on Twitter @FAFSAfirst.
The FutureMakers Coalition aims to transform Southwest Florida's workforce by increasing the proportion of working age adults with college degrees, workforce certificates, industry certifications and other high-quality credentials to 55 percent. The Coalition has grown to over 300 FutureMakers representing business, education, government, nonprofits, philanthropy, residents, and students across Glades, Hendry, Collier, Lee, and Charlotte counties.
Southwest Florida has been designated a Talent Hub by the Lumina Foundation in partnership with The Kresge Foundation and received a $125,000 award to support local efforts to increase educational attainment.
The FutureMakers Coalition encourages businesses to join and invest in sustaining this community-changing initiative by visiting https://www.futuremakerscoalition.com or emailing Tessa LeSage at [email protected].