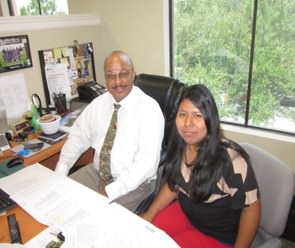 While many of their peers enjoyed a more leisurely summer break, 16 incoming Collier County high-school seniors designed a trophy case, waded along the coast to survey beach erosion and worked toward earning their pilot's licenses.
As participants in the school district's internship program, the students earned a paycheck and hands-on experience in potential careers.
A $24,150 grant from the FutureMakers Coalition through the Richard M. Schulze Family Foundation allowed Collier County Public Schools to expand the internship program from its inaugural five students in 2015 and ensure every student was paid for the minimum 120 required hours.
"One of the struggles we face throughout the region is the heavy concentration of small businesses that are willing to offer internships but can't pay the students," said Courtney Stahlman, who as the manager for the school district's High School Career Academies also oversees its internship program. "The Schulze Foundation and FutureMakers are invested in developing Southwest Florida's workforce, and this grant gave more students the opportunity to work at local companies. The sooner we can give students job experience, the better. We're developing these future workers with the goal of keeping them here in Southwest Florida for careers."
Participating companies included Thomas Riley Artisans Guild, Coastal Engineering Consultants, Structural Medical, the communications department of Collier County Public Schools, Arthrex, Trebilcock Consulting and Career Flight Training, and Aircraft Rental at the Naples Airport.
Eleven students were paid directly by the companies; the remaining five were covered by the grant.
"Most government entities, medical facilities and nonprofit organizations are unable to pay their interns," added Stahlman. "This is where the grant came in handy. For many students, this was the first paycheck they've ever received."
The internship program is a spinoff of the school district's affiliation with the National Academic Foundation, which introduced five career-specific academies at various high schools four years ago. The academies allow students to explore engineering, information technology, hospitality, health sciences and finance careers while teaching them the fundamentals of securing a job.
The mission of the NAF, an educational nonprofit organization, is to solve challenges facing education and the economy by bringing education, business and community leaders together to transform the high-school experience.
Many of the Collier County companies offering internships were recommended by local NAF advisory board members and through word of mouth with some offering several summer positions for two or three students to work together.
"During the last year, the FutureMakers Coalition has identified early career exposure as one of the most effective strategies we can enhance, expand and replicate throughout the region to help students identify their passion and align their education to meet career goals," said Tessa LeSage, director of social innovation and sustainability for the Southwest Florida Community Foundation which is serving as the anchor organization for the FutureMakers Coalition. "We've also discovered these experiences are better suited for students when it's an opportunity outside of school."
Through the Community Foundation, the Schulze Family Foundation earmarked $300,000 to fund projects emerging from FutureMakers' work throughout the region.
The Artisans Guild, an upscale interior woodwork and finishes shop, hired two student interns, immersing them in the engineering and design skills they're also learning in the district's engineering academy.
"They designed projects that will ultimately be built," said Danielle Poff, community liaison for the guild which also hired a summer intern in 2015. "There's nothing better than creating something and seeing it built. Each student prepared design drawings then swapped projects. They learn to create their own design and read someone else's drawings. We give our interns a broad overview. We know they've done a lot of work on computers, so we want to get them in the shop."
Coastal Engineering's intern worked out in the field with the company's land and water survey crews monitoring erosion trends, shoreline changes, tidal shoals and analyzing the results using the company's proprietary computer programs.
"Because so much of our work is in the water, one of our first interview questions is asking a potential intern if he or she is comfortable in the water and on a boat," said Michael Poff, vice president of engineering. "We also look for maturity level, and because of the academy, it's already there. Good communications skills and being able to think and solve problems are also important."
Coastal Engineering was able to retain its intern longer than the 120 hours to cover employee vacations.
"Companies realize our students are not the typical high-school students," Stahlman said. "They're prepared to work and want to do it to improve their qualifications."
Three interns from the IT Academy worked for the school district in digital design and video production, and a non-themed program allowed aviation students at Lely High School to work on planes, work in the control tower and clock flying time toward a private pilot license at Naples Airport.
Danielle and Michael Poff, who are married, said both of their companies have a history of hiring high-school and college interns, and have involvement in education. Thomas Riley of the Artisans Guild helped establish the woodworking program at Palmetto Ridge High School in Naples. Coastal Engineering also offers an externship for teachers; the Education Foundation of Collier County pays half of the salary for participants.
"The school district's internship program is fantastic," Michael Poff said. "We need more companies offering internships and business leaders in Collier to step up. There are hundreds of students who would benefit from an internship."
"We enjoy having students," said Danielle Poff. "It's part of our philosophy of giving back to the community and helping to educate our future workforce. The academies are a great opportunity for students to take a broad range of classes and decide which field of engineering they like or if it's something they really want to do before they commit to four to six years of college."
Students enrolled in Collier County's NAF academies have the opportunity to earn industry recognized certifications in Adobe and Microsoft programs, AutoCAD, Autodesk and animation. Increasing certifications is part of the FutureMakers Coalition's goal of transforming Southwest Florida's workforce.
"The internships provide a really good experience," said Adam Peterson, the teacher of record who worked with the students and businesses during the summer. "They're definitely learning different things than they do in the classroom. All of the students I interviewed were glad they took time out of their summer break to participate, and the employers enjoyed having the students."
According the Stahlman, the remaining grant funding will provide internships during the school year for five to 10 students.
LeSage said the Collier program could become a model for other school districts in Southwest Florida and help entice students to seek employment in the region upon completion of post-secondary education.
"Giving students this experience impacts the perception and employability of our future workforce," she addded. "It makes them more valuable as future employees."
The Schulze Family Foundation was created in 2004 by Best Buy founder Dick Schulze, a Southwest Florida resident. It supports education, human services, health and medical research, and transformational entrepreneurship.
Formed in 2015 around existing regional collaborations, the FutureMakers Coalition has a goal to increase the number of college degrees, post-secondary certifications and high-quality credentials from 27 to 40 percent by 2025 throughout Charlotte, Collier, Glades, Hendry and Lee counties. The Coalition is committed to creating a cradle-to-career pathway to ensure success for traditional students and adult learners.
The FutureMakers Coalition is one of Lumina Foundation's 75 national Community Partners in Attainment. Residents are encouraged to join and support this community-changing initiative. For more information, visit www.FutureMakersCoalition.com, call 239-274-5900 or email Tessa LeSage at [email protected].