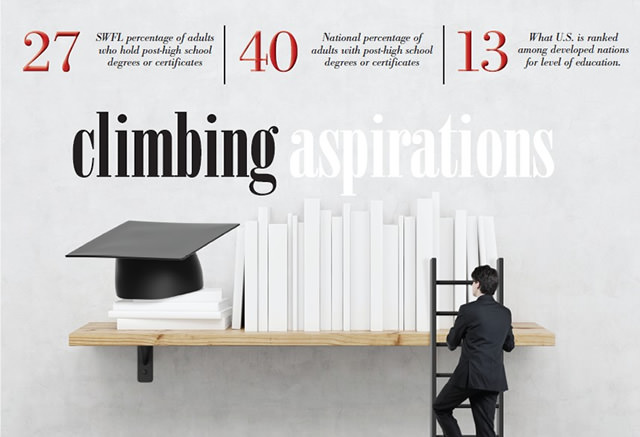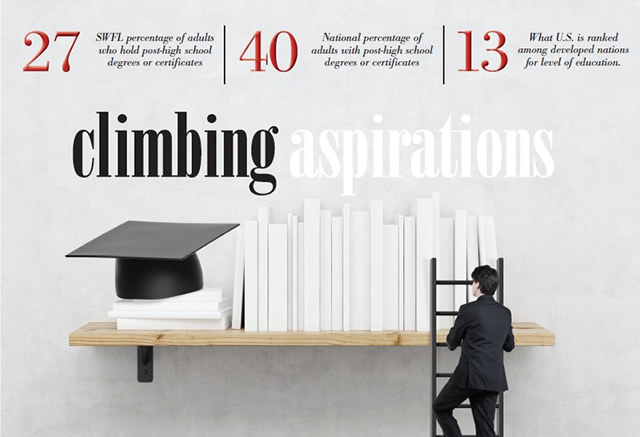 If you're like most people — about 95 percent of adults who can work — you have to get up and go into the salt mines each day. So there hasn't been a lot of time to sit around and think about "attainment equity."
As a term, perhaps, it's fairly leaden. But as a concept — one carefully defined by a private foundation called Lumina (from the Latin word for light) with a billion-dollar-plus endowment trying to muscle-up education in the United States — it's magic. Hard economic magic, a cooking fire of sorts.
And now that economic cooking fire has been lit beneath the soup of Southwest Florida in a program known as the FutureMakers Coalition. The title is apt. It's tailored and fit to the region by the Southwest Florida Community Foundation, which has brought together a network of experts and advocates. The foundation is working with Lumina coaches and using a new and never-before-harnessed cadre of team members from business, education and government.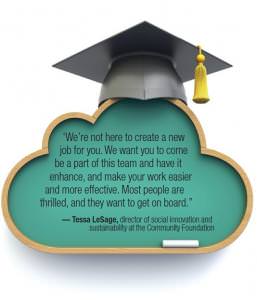 When it comes to "attainment equity," they can see the light, and for two reasons: one, it's worth immense community wealth (not to mention better personal fortune, for many) over the next 20 years. And two, we don't have it.
As it stands, if Southwest Florida were the United States in microcosm, we'd rank way down in the so-called "second world" on the planet for level of education, at 27 percent: that's the percentage of adults here who hold post-secondary degrees or certificates.
The national average is 40 percent. Which itself ranks the United States at only number 13 among developed nations for level of education. And that statistic is just plain flat dangerous, says Lumina. (Canada, for example, ranges up near 60 percent, according to Lumina statistics.)
So the FutureMakers Coalition has a single definable goal: to raise the level of those with certificates or college degrees from 27 percent to 40 percent by the year 2025, in Southwest Florida. In the United States, meanwhile, the goal of the Lumina Foundation, which is based in Indianapolis, is to raise the percentage from 40 to 60 percent.
How? By working within the decades-old educational system as well as disrupting it, says Jamie Merisotis, the president and CEO of Lumina.
"We're working side by side with employers, postsecondary education leaders, and community members in 75 metro areas to encourage broader adoption of and support for Goal 2025," he explains at ssireview.org. Those communities will shape their educations to fit their needs and residents "through significant technical and planning assistance, data tools, and flexible funding."
Which sounds nice, but also requires that communities redefine success in education by "rewarding all forms of postsecondary learning," Mr. Merisotis argues.
"A core element of this approach is a strategic document called the Degree Qualifications Profile, which defines the skills and knowledge students need to earn degrees at various levels. In short, the DQP shifts the discussion on campuses from 'What are we going to teach?' to 'What should our students know and be able to do? What knowledge and skills must they be able to demonstrate to thrive?'"
If it sounds easy enough, it may not be.
"Attainment equity" simply means getting a much greater percentage of people with high school diplomas or GEDs to go on in their educations — to earn useful certificates or college diplomas. And that means finding new ways to reach adults who want to come back to college or certified training programs, and first generation students whose parents don't hold post-secondary degrees, and low-income and minority students who can't figure out how to tap into a system that can offer money and help.
At the FutureMakers Coalition, they call those people "21st century students," the ones we need to reach to make the society stronger and wealthier.
When the statistic is broken down — that 40 percent of adult Americans have post-high school degrees or certificates, now — the demographics of 21st century students become more clear: Among Asian American adults, 59 percent have post-secondary certificates or degrees. Among whites, it's 44 percent, African Americans 27 percent, Native Americans 23 percent, and Latinos 20 percent, Lumina figures show.
But why bother with all that if you're getting up and going into the salt mines every day, and you're not an educator?
Why should such diverse organizations and some of their best thinkers across the region get behind this, volunteering their time (which, after all, is money) — outfits such as Fifth Third Bank, Wells Fargo, The Microenterprise Institute of Goodwill, Deva Industries, CareerSource of Southwest Florida, the city of Fort Myers, the Southwest Florida Regional Technology Partnership, Lee Memorial Health System, the PACE Center for Girls, Florida Gulf Coast University, Florida SouthWestern State College, Keiser University and Hodges University, the Scientists Society of Southwest Florida, Big Brothers Big Sisters of Charlotte County, Al and Nancy Burnett Charitable Foundation, the engineering and planning firm, EnSight, the Glades Education Foundation, theCollier, Lee and Charlotte county school districts, the Guadalupe Center, the Horizon Council, PR Zebra and Florida Weekly, among many others?
Here's the answer and it's based on this demonstrable statistic: Those who earn degrees or useful certificates after high school will, on average, take in $2.8 million more in their working lifetimes than those who don't, government statistics show.
And when that happens, the places those people live, the children those people raise, the businesses and organizations that pay those people salaries and benefits, along with those people themselves can contribute significantly more to their communities and their country, and probably have a lot more fun in the meantime.
That's why the Lumina Foundation has now chosen the five-county region we call Southwest Florida to become one of the key metro or sub-metro regions in the U.S. to make fundamental changes in the way we, as a region, approach education.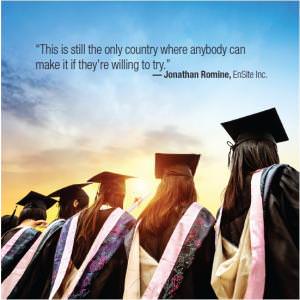 Boots on the ground
It's happening in 74 other regions or major metropolitan areas in the U.S., as well, says Tessa LeSage, director of social innovation and sustainability at the Community Foundation, or as she puts it, the woman with "the neatest job title in the world."
The Lumina Foundation, administering grants of about $50 million annually and guiding the various regions, has chosen Southwest Florida because of the increasing population here — 1.2 million and climbing — and because the region's struggles to raise the level of education, and to avoid "brain drain," as they call it when young people move away, taking their skills elsewhere.
Ms. LeSage herself is a model for the future, perhaps, like many of those who are joining the FutureMakers Coalitions and its special teams: the Aspiration and Preparation team (35 team members to date); Access and Entry (13); Persistence and Progress (11); Completion (32); Data (six) and Media (seven team members).
Ms. LeSage grew up here before getting a higher education in Boston and then returning — with her brainpower, education and talent — to her birthplace, making her the model of deportment of the FutureMakers Coalition.
She is now raising her own children in the region, and she describes what the FutureMakers Coalition will make happen, this way: "This is a cradle to career system, which includes education and workforce development and economic development and jobs — each of the functions in our (community).
"My job is to get people on these teams. I say, 'We're not here to create a new job for you. We want you to come be a part of this team and have it enhance, and make your work easier and more effective. Most people are thrilled, and they want to get on board."
Voices
Here are the voices of just a few of those who are stepping in — who have gathered for their first strategy meetings, who are now able to work with such coalitions in other cities or regions, and who consult with coaches at Lumina.
TEAM COMPLETION
¦ Peg Elmore, director of business, Career Source Southwest Florida
"We are in our early stages. It's an ambitious goal but I do think it's achievable. We support this as part of what we do. We work within the five counties now, and we know there are thousands who cross county lines every day for work.
At the last meeting we broke up into different groups, asking who was repping somebody, who was doing training or working in the high schools — then we did asset mapping (using data to understand who and what is available). I walked away thinking, 'Wow we have a lot of resources… the breadth of them… everything from needing space, to funding, to contacts and collaborative efforts — it's across the board."
"More people are moving into Florida instead of out if it. And we need trained and educated people.
"Even within the hospitality industry the value of credentials can be crucial — and sometimes people don't know what they don't know. But they can enter into a tiny program and learn; there's so much more to the software than they realize. So the act of getting the credential is a learning and growing experience itself. We must all be lifelong learners.
"Even though unemployment is now at a low of roughly 5 percent, I work with businesses who are seeking qualified talent on a daily basis. And there are gaps in occupations. Computer skills, the building trades — there's an instructor at the Fort Myers Institute of Technology who's having trouble keeping the automotive service technicians in the class long enough to graduate because they can get such good jobs even before they finish.
"And insurance programs that affect the health-care industry. We have a number of medical personnel who have learned on the job, but with tighter insurance regulations, its critical they get certified."
TEAM PERSISTENCE AND PROGRESS
¦ Gina Frazier, president of Deva Industries.
"If we are to have an impact, we must take a total systems approach, involving not just the schools but local businesses, nonprofits, government entities, private citizens, and the students themselves.
"We need ways to excite kids about learning, so they want to go on for degrees or certifications. Especially those kids facing circumstances that place them at risk. There are many great programs locally that do this, such as those through the JROTC, I Will Mentorship Foundation, Kappa Alpha PSI Educational Foundation, Uncommon Friends Foundation, Lee County Electric Coop, to name just a few. What I do at Deva for Good (Ms. Frazier's pro-bono arm) is help make the connections and facilitate collaboration among those who can make a difference.
"I look at things from a big system approach — how do things interact together?
Most people think in a silo — you're thinking one way, the only way education occurs. But that's not the case.
How do you get kids excited? They have to want to do it, to know there are possibilities — and, they have to have the financial responsibility.
When I was young, I hated math in school. Later I entered dance competitions, and I realized it was all geometry. They're doing angles and curves. And I thought, 'Why didn't they tell us this is in school?' And I developed a computer program that would create patterns for the dance. Everything around us is math. It made me look at the world completely differently. So if you can make it meaningful to kids, you can change how they feel about learning.
"Getting that 27 percent up to 40? That's going to be a tough goal. It's a campaign, a marketing campaign.
"We need to pull in students to get their opinions, and ask them, 'Why aren't you going off to be educated (after high school)? I don't think I saw any students in the meeting.'"
TEAM DATA
¦ Brent Kettler, data consultant
Data, says Tessa LeSage, is one of the FutureMakers Coalition's most powerful tools. "We can use Geographic Information Systems to create layered maps with data that let you understand almost anything about a community: what infrastructure is in place, what access to internet service are in place, what properties are already zoned or have entitlements, or, as in the Tampa Bay Regional Partnership, a map on top of commercial or office space that also offers information about the workforce, the kinds of degrees or certificates they have and where they are.
"And the other side is understanding what's going on in terms of the cradle to career system, with data."
Enter Brent Kettler.
"When I worked for Lee County's Economic Development Office, my role morphed into business intelligence, technology, and the role of databases
"Because economic development has morphed into something else.
"Traditionally, businesses would come to different metro areas and vet the area for clients and everything else — quality of life, education, and workforce. They'd physically show up, doing interviews and getting background.
"But it has a different face, and there's this younger generation of directors, in charge as senior level economic development directors, and their understanding of information, and they way mine it and use it is different.
"Now you can provide data sets that paint a picture.
"So where this spins into Lumina and Tessa and my assistance with the FutureMakers Coalition is here: I started to look at our numbers and the 27 percent of post secondary attainment, and ask a couple of questions. That 13 percent we want to make up, there's a lack of definition about what a post secondary degree or certificate is — it has to be employable, but there's a problem: there are all these great information tools out there, and on line, but they're hard to measure, to track.
"I was shocked at how many (good programs) there are down here and how employable these folks are who come from them.
"So the meat and bones is: how are we going to achieve this, and how can we make this effort work. We have to figure out what our landscape looks like.
"The Census tells us that Lee County alone has just north of 15,000 employers, and 92 percent of businesses have less than 20 employees. You look at revenue of organizations and head count to learn that there are 1.12 IT employees per 20 head count. So that means that every single business relies on technology now. It's multifaceted, and I would be very shocked if Collier and Charlotte are not similar. Information security, website security, customer data management… those don't require four-year degrees.
"So this gets into social part of it. There's a ton of momentum here for this, there's no state tax, a great broadband structure, and the rent isn't too bad either. And with ACA and the availability of health care, you can work by yourself, if you have some kind of usable skills. So this is a great place to live. But there's a problem, and that's brain drain or migration of workers — it's a hole in the boat. Business is coming in, but the workforce leaks.
TEAM ASPIRATION AND PREPARATION
¦ Jonathan Romine, landscape architect and principal at EnSite Inc.
I'm doing this in part because I wanted to help mentor youth and at-risk kids — pipe dream stuff — who didn't have a fairy tale upbringing, like I did. And my wife is a public school teacher.
"I also didn't believe we should be waiting until retirement before we give back. I think it is a duty and corporate responsibility to be involved — not just invested but involved. As a business owner, I was looking for something that didn't have a huge liability attached to it, too.
"I have two kids I'm mentoring now. They're both going to be seniors. We all had conversations about the Future- Makers program. A lot of times these kids have no money, so they can't go to college in their minds, but they don't realize what's out there. There's money available if they keep up their GPAs and finish. So the idea of helping these kids understand opportunity appeals to me.
"This is still the only country where anybody can make it if they're willing to try. And I still think public education is the most valuable tool available to everybody, because you cannot be successful without education. I'm not saying everybody should go to college, but education is still the foundation. And as a country, the fact that we provide every single child with access is wonderful. So I'm committed. My mom, my wife, my mother-in-law, some of my cousins — they're all teachers. At the end of the day, they make pennies but they produce productive citizens.
"We take that for granted far too often.
"I love it when people say how awful public schools are and how great private schools are, and I ask them when was the last time they rolled up their sleeves and stepped in to help.
"That's what we're doing here."
TEAM ASPIRATION AND PREPARATION
¦ Ava Barrett, library director for Hendry County
"FutureMakers is a great idea. Southwest Florida has this challenge, and with the number of certifications we have, this is a great opportunity for us to help change these kinds of statistics that are not very complimentary.
"I am in Clewiston, and I think the statistics might be worse here than anywhere else.
My role: To be able to work with local entities, such as CareerSource, to see how I can run programs to reach people who can get this done. I can be there to help sign people up for postsecondary degrees or certificates, and for the money that can help them pay for it.
So we've started to talk to young people, and help them sign up for (scholarships for low-income students). There is money available. Free money, and they can't take advantage of it if they don't know how.
"So my role is to push — to push the idea of getting them scholarship and aid money. That way we will have more certified people.
"Another thing I'm doing at my library — we have purchased subscriptions to some Microsoft IT academy places. Through this they are able to get Microsoft certifications — and we've started off with Office. Right now, we're talking with Florida SouthWestern State College about how we can partner to help provide instruction so we can get more people who are qualified. This looks positive for the Hendry County library system and we're hoping to entice people from Belle Glade and Moore Haven as well as Labelle and Harlem.
"I believe it's doable. If we put all our effort into do it, it's possible to move those percentages. Especially if we're working with the school system, and not only with people still in schools, but many out of school." ¦