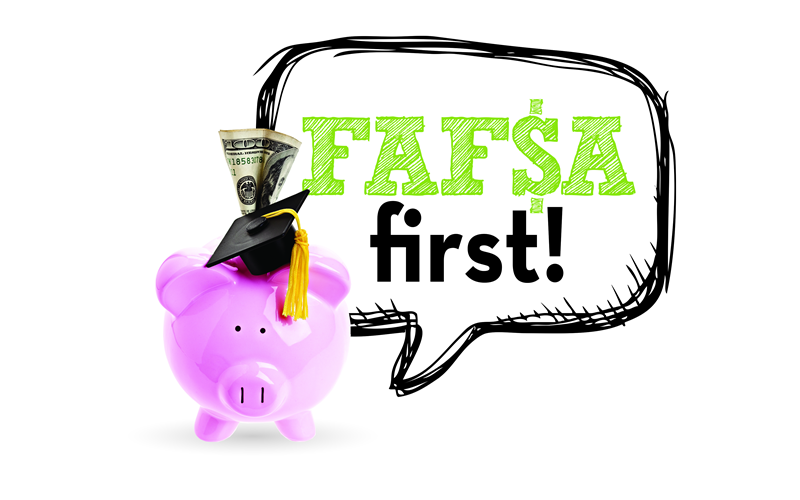 It's time for high school seniors and their parents in Charlotte, Collier, Glades, Hendry and Lee counties to fill out the Free Application for Federal Student Aid by visiting www.fafsa.gov.
FAFSA is the only way to apply for federal student aid and is the largest provider of student financial aid in the nation. Each year, the federal government provides more than $150 billion in financial aid (grants, workstudy and loans) for college and career school. To apply for this aid, every high school senior who plans to attend college or career school must complete the FAFSA. State governments and many colleges, career schools and private organizations also use FAFSA information to determine additional financial aid awards.
File the FAFSA now, so you can receive financial aid award offers from schools sooner and make informed decisions about college or career school affordability.
Parents and applicants can use their 2020 income tax return information. To avoid errors, you can even use the IRS Data Retrieval Tool to import your tax information directly from the IRS website into your FAFSA to avoid errors.
With a goal to transform Southwest Florida's workforce, FutureMakers Coalition partners are collaborating to improve access to post-secondary education by increasing the number of students filling out the FAFSA, said Tessa LeSage, FutureMakers director, Collaboratory, which is serving as the backbone organization for the Future- Makers Coalition. "Research shows FAFSA completion rates correlate with the percentage of workforce who holds degrees, certificates and high-quality credentials," she said.
FutureMakers Coalition recently launched an updated FAFSA first! website at www.futuremakerscoalition.com/fafsafirst/. It includes information, tools, frequently asked questions and a pathway for students and their parents to easily navigate and complete the Free Application for Federal Student Aid online.
FutureMakers Coalition's FAFSA first! is available to help make the application process as easy as possible. FutureMakers has a robust team of cross-sector partners leading the FAFSA first! Campaign, including the United Way of Lee, Hendry, Glades and Okeechobee; Lee and Collier's school foundations; FGCU; FSW; and Future Ready Collier.
Those with questions can email [email protected] and a financial aid representative from the team will assist them. Additional resources including a step-by-step FAFSA guide are available at www.futuremakerscoalition.com/fafsafirst/.
FAFSA first! was recently awarded a $30,000 Local Access Network FAFSA & Enrollment Grant by Florida College Access Network to encourage FAFSA completion. Part of the grant will be used for incentives for schools with the biggest increase in FAFSA completions for each county.
CLICK HERE TO READ MORE