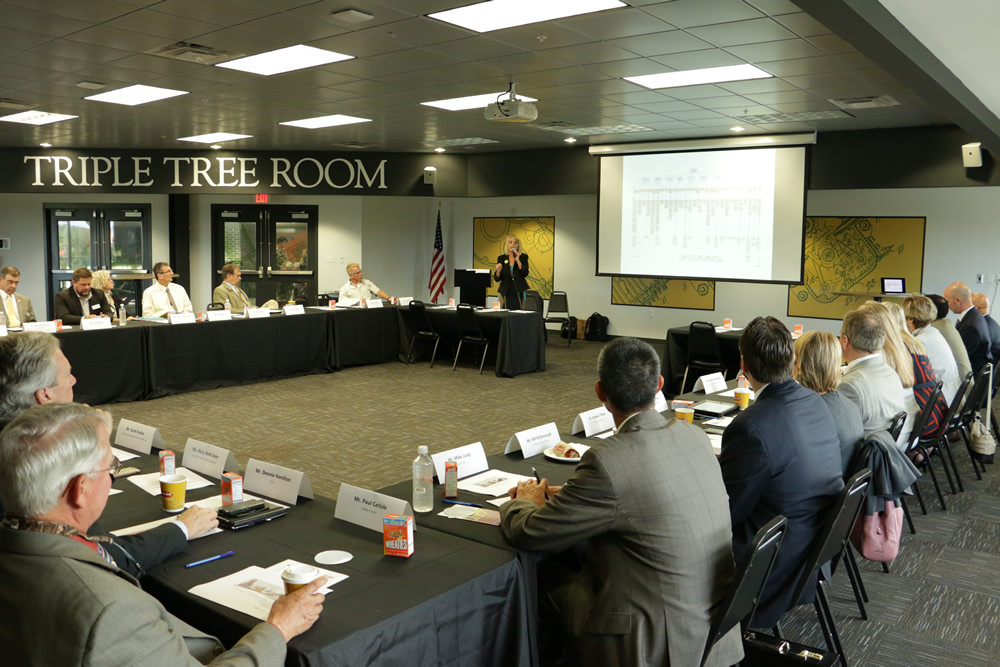 Goal to increase Southwest Florida's higher education completion to 40 percent by 2025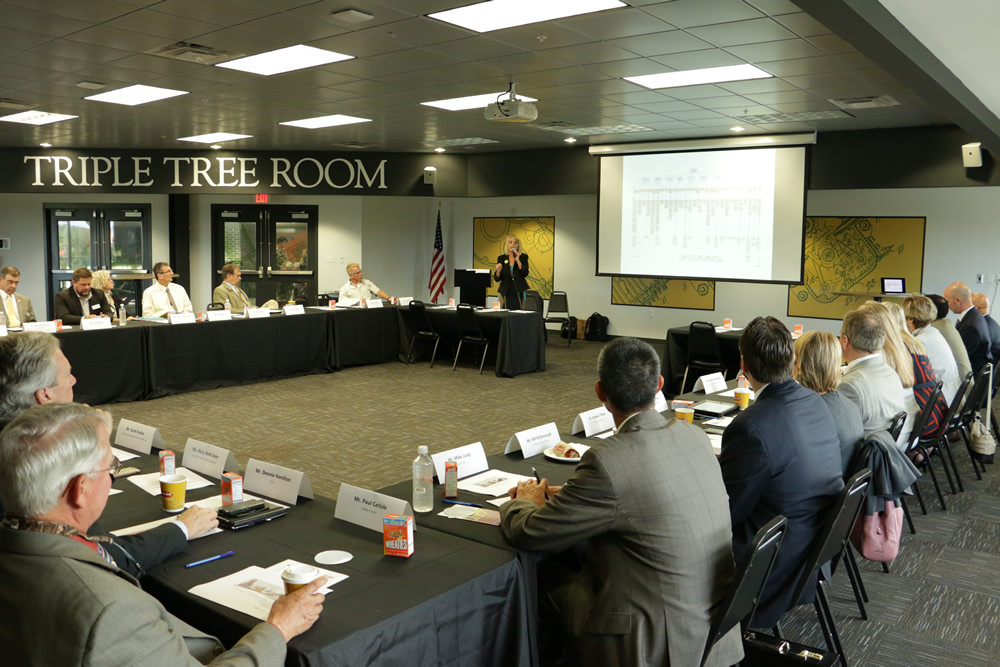 Two national coalition-building experts recently met with the FutureMakers Champions Team, part of a Southwest partnership committed to transforming the regional economy by increasing post-secondary completion.
John Burnett, chief executive officer of the Community Education Coalition, and Jack Hess, executive director of the Institute for Coalition Building, shared their wisdom and best practices with some of Southwest Florida's most prominent community stakeholders – about 50 individuals who have pledged their support to the Champions Team.
The goal of the FutureMakers Coalition is to increase the number of Southwest Florida residents with high-quality degrees, certificates and other credentials to 40 percent by the year 2025.
With the help of Lumina Foundation and its coaches, the Champions Team plays a pivotal role in the coalition's success. Team members include leaders from education, economic development, business and government who have the ability to create a stronger workforce and vibrant economy by improving cradle-to-career opportunities for students, offering job training and certifications, employee educational incentives and more.
"The Champions Team members are key leaders and influencers who, together, have the opportunity to help shift the culture and conversation in Southwest Florida, and the coaches were here to help us all learn together just how to do that," said Sarah Owen, president and CEO of the Southwest Florida Community Foundation, which is serving as the anchor organization for Lumina Foundation's Community Partnership for Attainment network.
As one of 75 metropolitan areas working alongside Lumina Foundation to increase post-secondary attainment nationwide, Southwest Florida's coaches provide guidance, resources and best practices in building the FutureMakers Coalition and increasing the number of working age adults with degrees and certifications.
The FutureMakers Coalition was born out of a two-year regional initiative focused on increasing the number of high school seniors in Lee, Collier, Charlotte, Glades and Hendry counties completing the Free Application for Federal Student Aid. Responding to the Florida College Access Network's 2012 report that more than $100 million in Pell Grants went unclaimed by Florida students, the initial effort involved a team of more than a dozen stakeholders who invested in high-school seniors through one-on-one and group mentoring, FAFSA workshops and support, and career coaching.
Within a year and with the recommendation of FCAN and Helios, the work of the inaugural FutureMakers program was recognized by Lumina Foundation, an independent private foundation committed to increasing the proportion of Americans with high-quality degrees, certificates and other credentials to 60 percent by 2025. The FutureMakers Coalition benefits from Lumina's collaborative approach that connects Southwest Florida to renowned national thought-leadership organizations and provides technical and planning assistance, data tools and flexible funding as attainment plans are customized.
About FutureMakers Coalition
The FutureMakers Coalition is working to increase post-secondary certification completion in Southwest Florida and promote the knowledge and skills needed for success in the workplace and in life. Formed in 2015 around existing regional collaborations, the coalition's goal is to transform the workforce by increasing the number of college degrees and post-secondary certifications from 27 percent to 40 percent by 2025 throughout Charlotte, Collier, Glades, Hendry and Lee counties.
As one of Lumina Foundation's 75 national Community Partners in Attainment, the FutureMakers Coalition is a regional partnership involving education, government, business, nonprofit and citizen stakeholders and advocates committed to creating a cradle-to-career pathway to ensure success for traditional students and adult learners.
The Southwest Florida Community Foundation serves as the anchor organization for the coalition.  The FutureMakers Coalition encourages residents to join and support this community-changing initiative. For more information, visit www.FutureMakersCoalition.com, call 239-274-5900 or email Tessa Lesage at [email protected].
Contact: Melinda Isley, APR, m.creativepr, 239-274-7736, cell: 239-565-1630, [email protected]