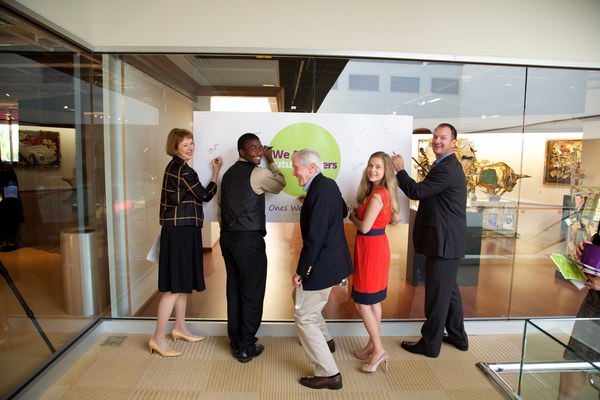 [cmsms_row][cmsms_column data_width="1/1″][cmsms_text]
Goal to increase region's higher education completion to 40 percent by 2025
FORT MYERS, Fla. (March 18, 2015) – More than 80 business, government, education, workforce and economic development leaders recently joined together to launch a regional cohort, FutureMakers Coalition.
The goal of the FutureMakers Coalition is to increase the number of people in Southwest Florida with high-quality degrees, certificates, and other credentials to 40 percent by the year 2025.
"Currently 27 percent of the workforce in Lee, Collier, Charlotte, Glades and Hendry counties has some sort of post-secondary degree," said Sarah Owen, president and CEO of the Southwest Florida Community Foundation, the Coalition's backbone organization. "With targeted funding, legislation and uniting groups around the same goal, we expect to be able to meet this milestone by 2025."
The FutureMakers Coalition was born out of a regional initiative last year, which was supported by a team of more than a dozen stakeholders focusing on strengthening Lee, Collier, Charlotte, Glades and Hendry counties. FutureMakers took an active role in aiding high-school seniors through one-on-one and group mentoring, Free Application for Federal Student Aid (FAFSA) workshops and support, and career coaching.
After one year, the work of FutureMakers was recognized by Lumina Foundation, an independent, private foundation committed to increasing the proportion of Americans with high-quality degrees, certificates and other credentials to 60 percent by 2025. The Southwest Florida Community Foundation will serve as the coordinator for regional participation, and the FutureMakers Coalition will benefit from Lumina's collaborative approach that connects Southwest Florida to renowned national thought-leadership organizations and provides technical and planning assistance, data tools and flexible funding as attainment plans are customized. Lumina has a network of 75 cities that make up Lumina's Community Partnership for Attainment network. The network includes Southwest Florida and is now closed.
"It's not just degrees that we will focus on but 'industry-recognized certifications' that can help people land better jobs and are key to economic and workforce development," Owen added. "Higher education can lead to better jobs and a higher quality of life."
As leaders, conveners, grant makers and concierges of philanthropy, the Southwest Florida Community Foundation is a foundation built on community leadership with an inspired history of fostering regional change for the common good in Lee, Collier, Charlotte, Hendry and Glades counties. The Community Foundation, founded in 1976, connects donors and their philanthropic aspirations with evolving community needs. With assets of more than $80 million, the Community Foundation has provided more than $60 million in grants and scholarships to the communities it serves. Last year, the Foundation granted more than $2.8 million to nonprofit organizations supporting education, animal welfare, arts, healthcare and human services. The Foundation granted $782,000 in nonprofit grants including more than $400,000 in regional community impact grants and additional $450,000 in scholarship grants.
[/cmsms_text][cmsms_gallery layout="gallery" image_size_gallery="square-thumb" gallery_columns="4″ gallery_links="lightbox" animation_delay="0″]159|http://dev.futuremakerscoalition.com/wp-content/uploads/2015/04/150311SWFLCOMFDN0604-200×200.jpg,158|http://dev.futuremakerscoalition.com/wp-content/uploads/2015/04/150311SWFLCOMFDN0599-200×200.jpg,157|http://dev.futuremakerscoalition.com/wp-content/uploads/2015/04/150311SWFLCOMFDN0591-200×200.jpg,156|http://dev.futuremakerscoalition.com/wp-content/uploads/2015/04/150311SWFLCOMFDN0577-200×200.jpg,155|http://dev.futuremakerscoalition.com/wp-content/uploads/2015/04/150311SWFLCOMFDN0571-200×200.jpg,154|http://dev.futuremakerscoalition.com/wp-content/uploads/2015/04/150311SWFLCOMFDN0569-200×200.jpg,153|http://dev.futuremakerscoalition.com/wp-content/uploads/2015/04/150311SWFLCOMFDN0554-200×200.jpg,152|http://dev.futuremakerscoalition.com/wp-content/uploads/2015/04/150311SWFLCOMFDN0551-200×200.jpg,151|http://dev.futuremakerscoalition.com/wp-content/uploads/2015/04/150311SWFLCOMFDN0536-200×200.jpg,150|http://dev.futuremakerscoalition.com/wp-content/uploads/2015/04/150311SWFLCOMFDN0514-200×200.jpg,149|http://dev.futuremakerscoalition.com/wp-content/uploads/2015/04/150311SWFLCOMFDN0497-200×200.jpg,148|http://dev.futuremakerscoalition.com/wp-content/uploads/2015/04/150311SWFLCOMFDN0465-200×200.jpg,147|http://dev.futuremakerscoalition.com/wp-content/uploads/2015/04/150311SWFLCOMFDN0451-200×200.jpg,146|http://dev.futuremakerscoalition.com/wp-content/uploads/2015/04/150311SWFLCOMFDN0446-200×200.jpg,145|http://dev.futuremakerscoalition.com/wp-content/uploads/2015/04/150311SWFLCOMFDN0429-200×200.jpg,144|http://dev.futuremakerscoalition.com/wp-content/uploads/2015/04/150311SWFLCOMFDN0425-200×200.jpg,143|http://dev.futuremakerscoalition.com/wp-content/uploads/2015/04/150311SWFLCOMFDN0419-200×200.jpg,142|http://dev.futuremakerscoalition.com/wp-content/uploads/2015/04/150311SWFLCOMFDN0412-200×200.jpg,141|http://dev.futuremakerscoalition.com/wp-content/uploads/2015/04/150311SWFLCOMFDN0399-200×200.jpg,140|http://dev.futuremakerscoalition.com/wp-content/uploads/2015/04/150311SWFLCOMFDN0395-200×200.jpg,139|http://dev.futuremakerscoalition.com/wp-content/uploads/2015/04/150311SWFLCOMFDN0386-200×200.jpg,138|http://dev.futuremakerscoalition.com/wp-content/uploads/2015/04/150311SWFLCOMFDN0380-200×200.jpg,137|http://dev.futuremakerscoalition.com/wp-content/uploads/2015/04/150311SWFLCOMFDN0372-200×200.jpg,136|http://dev.futuremakerscoalition.com/wp-content/uploads/2015/04/150311SWFLCOMFDN0367-200×200.jpg,135|http://dev.futuremakerscoalition.com/wp-content/uploads/2015/04/150311SWFLCOMFDN0364-200×200.jpg,134|http://dev.futuremakerscoalition.com/wp-content/uploads/2015/04/150311SWFLCOMFDN0354-200×200.jpg,133|http://dev.futuremakerscoalition.com/wp-content/uploads/2015/04/150311SWFLCOMFDN0352-200×200.jpg,132|http://dev.futuremakerscoalition.com/wp-content/uploads/2015/04/150311SWFLCOMFDN0348-200×200.jpg,131|http://dev.futuremakerscoalition.com/wp-content/uploads/2015/04/150311SWFLCOMFDN0340-200×200.jpg,130|http://dev.futuremakerscoalition.com/wp-content/uploads/2015/04/150311SWFLCOMFDN0329-200×200.jpg,129|http://dev.futuremakerscoalition.com/wp-content/uploads/2015/04/150311SWFLCOMFDN0288-200×200.jpg,128|http://dev.futuremakerscoalition.com/wp-content/uploads/2015/04/150311SWFLCOMFDN0280-200×200.jpg,127|http://dev.futuremakerscoalition.com/wp-content/uploads/2015/04/150311SWFLCOMFDN0263-200×200.jpg,126|http://dev.futuremakerscoalition.com/wp-content/uploads/2015/04/150311SWFLCOMFDN0249-200×200.jpg,125|http://dev.futuremakerscoalition.com/wp-content/uploads/2015/04/150311SWFLCOMFDN0240-200×200.jpg,124|http://dev.futuremakerscoalition.com/wp-content/uploads/2015/04/150311SWFLCOMFDN0235-200×200.jpg,123|http://dev.futuremakerscoalition.com/wp-content/uploads/2015/04/150311SWFLCOMFDN0225-200×200.jpg,122|http://dev.futuremakerscoalition.com/wp-content/uploads/2015/04/150311SWFLCOMFDN0217-200×200.jpg,121|http://dev.futuremakerscoalition.com/wp-content/uploads/2015/04/150311SWFLCOMFDN0215-200×200.jpg,120|http://dev.futuremakerscoalition.com/wp-content/uploads/2015/04/150311SWFLCOMFDN0214-200×200.jpg,119|http://dev.futuremakerscoalition.com/wp-content/uploads/2015/04/150311SWFLCOMFDN0202-200×200.jpg,118|http://dev.futuremakerscoalition.com/wp-content/uploads/2015/04/150311SWFLCOMFDN0193-200×200.jpg,117|http://dev.futuremakerscoalition.com/wp-content/uploads/2015/04/150311SWFLCOMFDN0185-200×200.jpg,116|http://dev.futuremakerscoalition.com/wp-content/uploads/2015/04/150311SWFLCOMFDN0183-200×200.jpg,115|http://dev.futuremakerscoalition.com/wp-content/uploads/2015/04/150311SWFLCOMFDN0172-200×200.jpg,114|http://dev.futuremakerscoalition.com/wp-content/uploads/2015/04/150311SWFLCOMFDN0166-200×200.jpg,113|http://dev.futuremakerscoalition.com/wp-content/uploads/2015/04/150311SWFLCOMFDN0161-200×200.jpg,112|http://dev.futuremakerscoalition.com/wp-content/uploads/2015/04/150311SWFLCOMFDN0159-200×200.jpg,111|http://dev.futuremakerscoalition.com/wp-content/uploads/2015/04/150311SWFLCOMFDN0153-200×200.jpg,110|http://dev.futuremakerscoalition.com/wp-content/uploads/2015/04/150311SWFLCOMFDN0149-200×200.jpg,109|http://dev.futuremakerscoalition.com/wp-content/uploads/2015/04/150311SWFLCOMFDN0145-200×200.jpg,108|http://dev.futuremakerscoalition.com/wp-content/uploads/2015/04/150311SWFLCOMFDN0141-200×200.jpg,107|http://dev.futuremakerscoalition.com/wp-content/uploads/2015/04/150311SWFLCOMFDN0139-200×200.jpg,106|http://dev.futuremakerscoalition.com/wp-content/uploads/2015/04/150311SWFLCOMFDN0135-200×200.jpg,105|http://dev.futuremakerscoalition.com/wp-content/uploads/2015/04/150311SWFLCOMFDN0131-200×200.jpg,104|http://dev.futuremakerscoalition.com/wp-content/uploads/2015/04/150311SWFLCOMFDN0126-200×200.jpg,103|http://dev.futuremakerscoalition.com/wp-content/uploads/2015/04/150311SWFLCOMFDN0124-200×200.jpg,102|http://dev.futuremakerscoalition.com/wp-content/uploads/2015/04/150311SWFLCOMFDN0115-200×200.jpg,101|http://dev.futuremakerscoalition.com/wp-content/uploads/2015/04/150311SWFLCOMFDN0111-200×200.jpg,100|http://dev.futuremakerscoalition.com/wp-content/uploads/2015/04/150311SWFLCOMFDN0108-200×200.jpg,99|http://dev.futuremakerscoalition.com/wp-content/uploads/2015/04/150311SWFLCOMFDN0100-200×200.jpg,98|http://dev.futuremakerscoalition.com/wp-content/uploads/2015/04/150311SWFLCOMFDN0098-200×200.jpg,97|http://dev.futuremakerscoalition.com/wp-content/uploads/2015/04/150311SWFLCOMFDN0094-200×200.jpg,96|http://dev.futuremakerscoalition.com/wp-content/uploads/2015/04/150311SWFLCOMFDN0089-200×200.jpg,95|http://dev.futuremakerscoalition.com/wp-content/uploads/2015/04/150311SWFLCOMFDN0087-200×200.jpg,94|http://dev.futuremakerscoalition.com/wp-content/uploads/2015/04/150311SWFLCOMFDN0085-200×200.jpg,93|http://dev.futuremakerscoalition.com/wp-content/uploads/2015/04/150311SWFLCOMFDN0083-200×200.jpg,92|http://dev.futuremakerscoalition.com/wp-content/uploads/2015/04/150311SWFLCOMFDN0081-200×200.jpg,91|http://dev.futuremakerscoalition.com/wp-content/uploads/2015/04/150311SWFLCOMFDN0078-200×200.jpg,90|http://dev.futuremakerscoalition.com/wp-content/uploads/2015/04/150311SWFLCOMFDN0074-200×200.jpg,89|http://dev.futuremakerscoalition.com/wp-content/uploads/2015/04/150311SWFLCOMFDN0072-200×200.jpg,88|http://dev.futuremakerscoalition.com/wp-content/uploads/2015/04/150311SWFLCOMFDN0068-200×200.jpg,87|http://dev.futuremakerscoalition.com/wp-content/uploads/2015/04/150311SWFLCOMFDN0066-200×200.jpg,86|http://dev.futuremakerscoalition.com/wp-content/uploads/2015/04/150311SWFLCOMFDN0063-200×200.jpg,85|http://dev.futuremakerscoalition.com/wp-content/uploads/2015/04/150311SWFLCOMFDN0062-200×200.jpg,84|http://dev.futuremakerscoalition.com/wp-content/uploads/2015/04/150311SWFLCOMFDN0059-200×200.jpg,83|http://dev.futuremakerscoalition.com/wp-content/uploads/2015/04/150311SWFLCOMFDN0057-200×200.jpg,82|http://dev.futuremakerscoalition.com/wp-content/uploads/2015/04/150311SWFLCOMFDN0055-200×200.jpg,81|http://dev.futuremakerscoalition.com/wp-content/uploads/2015/04/150311SWFLCOMFDN00491-200×200.jpg,80|http://dev.futuremakerscoalition.com/wp-content/uploads/2015/04/150311SWFLCOMFDN0047-200×200.jpg,79|http://dev.futuremakerscoalition.com/wp-content/uploads/2015/04/150311SWFLCOMFDN0045-200×200.jpg,78|http://dev.futuremakerscoalition.com/wp-content/uploads/2015/04/150311SWFLCOMFDN0044-200×200.jpg,77|http://dev.futuremakerscoalition.com/wp-content/uploads/2015/04/150311SWFLCOMFDN0042-200×200.jpg,76|http://dev.futuremakerscoalition.com/wp-content/uploads/2015/04/150311SWFLCOMFDN0040-200×200.jpg,75|http://dev.futuremakerscoalition.com/wp-content/uploads/2015/04/150311SWFLCOMFDN0036-200×200.jpg,74|http://dev.futuremakerscoalition.com/wp-content/uploads/2015/04/150311SWFLCOMFDN0034-200×200.jpg,73|http://dev.futuremakerscoalition.com/wp-content/uploads/2015/04/150311SWFLCOMFDN0030-200×200.jpg,72|http://dev.futuremakerscoalition.com/wp-content/uploads/2015/04/150311SWFLCOMFDN0025-200×200.jpg,71|http://dev.futuremakerscoalition.com/wp-content/uploads/2015/04/150311SWFLCOMFDN0018-200×200.jpg,70|http://dev.futuremakerscoalition.com/wp-content/uploads/2015/04/150311SWFLCOMFDN0016-200×200.jpg,69|http://dev.futuremakerscoalition.com/wp-content/uploads/2015/04/150311SWFLCOMFDN0812-200×200.jpg,68|http://dev.futuremakerscoalition.com/wp-content/uploads/2015/04/150311SWFLCOMFDN0796-200×200.jpg,67|http://dev.futuremakerscoalition.com/wp-content/uploads/2015/04/150311SWFLCOMFDN0788-200×200.jpg,66|http://dev.futuremakerscoalition.com/wp-content/uploads/2015/04/150311SWFLCOMFDN0779-200×200.jpg,65|http://dev.futuremakerscoalition.com/wp-content/uploads/2015/04/150311SWFLCOMFDN0762-200×200.jpg,64|http://dev.futuremakerscoalition.com/wp-content/uploads/2015/04/150311SWFLCOMFDN0755-200×200.jpg,63|http://dev.futuremakerscoalition.com/wp-content/uploads/2015/04/150311SWFLCOMFDN0752-200×200.jpg,62|http://dev.futuremakerscoalition.com/wp-content/uploads/2015/04/150311SWFLCOMFDN0747-200×200.jpg,61|http://dev.futuremakerscoalition.com/wp-content/uploads/2015/04/150311SWFLCOMFDN0742-200×200.jpg,60|http://dev.futuremakerscoalition.com/wp-content/uploads/2015/04/150311SWFLCOMFDN0729-200×200.jpg,59|http://dev.futuremakerscoalition.com/wp-content/uploads/2015/04/150311SWFLCOMFDN0726-200×200.jpg,58|http://dev.futuremakerscoalition.com/wp-content/uploads/2015/04/150311SWFLCOMFDN0722-200×200.jpg,57|http://dev.futuremakerscoalition.com/wp-content/uploads/2015/04/150311SWFLCOMFDN0718-200×200.jpg,56|http://dev.futuremakerscoalition.com/wp-content/uploads/2015/04/150311SWFLCOMFDN0710-200×200.jpg,55|http://dev.futuremakerscoalition.com/wp-content/uploads/2015/04/150311SWFLCOMFDN0706-200×200.jpg,54|http://dev.futuremakerscoalition.com/wp-content/uploads/2015/04/150311SWFLCOMFDN0699-200×200.jpg,53|http://dev.futuremakerscoalition.com/wp-content/uploads/2015/04/150311SWFLCOMFDN0691-200×200.jpg,51|http://dev.futuremakerscoalition.com/wp-content/uploads/2015/04/150311SWFLCOMFDN06531-200×200.jpg,52|http://dev.futuremakerscoalition.com/wp-content/uploads/2015/04/150311SWFLCOMFDN0683-200×200.jpg,50|http://dev.futuremakerscoalition.com/wp-content/uploads/2015/04/150311SWFLCOMFDN0652-200×200.jpg,49|http://dev.futuremakerscoalition.com/wp-content/uploads/2015/04/150311SWFLCOMFDN0643-200×200.jpg,48|http://dev.futuremakerscoalition.com/wp-content/uploads/2015/04/150311SWFLCOMFDN0626-200×200.jpg[/cmsms_gallery][/cmsms_column][/cmsms_row]