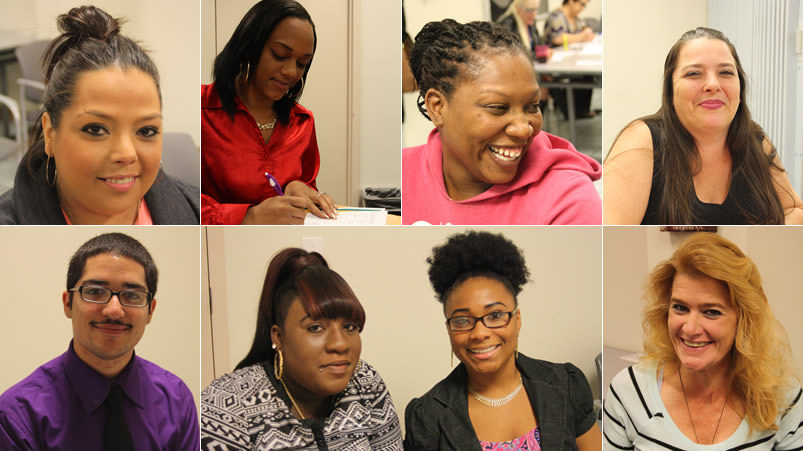 [cmsms_row data_padding_bottom="50″ data_padding_top="0″ data_overlay_opacity="50″ data_color_overlay="#000000″ data_bg_parallax_ratio="0.5″ data_bg_size="cover" data_bg_attachment="scroll" data_bg_repeat="no-repeat" data_bg_position="top center" data_bg_color="#ffffff" data_color="default" data_padding_right="3″ data_padding_left="3″ data_width="boxed"][cmsms_column data_width="1/1″][cmsms_text animation_delay="0″]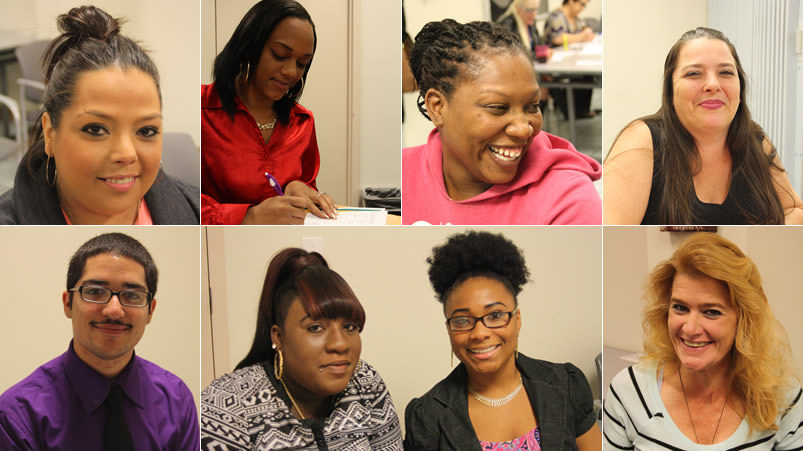 Jennifer Welling's children were listening when she advocated the importance of a post-secondary education. One is attending college, the second, a high schooler, is also on a similar track.
At 44, it's now Welling's turn. Her children insisted she attend Tuesday evening's information and qualification session at Career Source in Fort Myers to learn more about becoming a certified nursing assistant (CNA) and available tuition and scholarship assistance.
"As much as I've pushed my children to get an education, I've put it off for me," she said. "Now my kids are pushing it back on me. It's my time."
Welling, who works in the restaurant industry, was one of nearly 60 men and women participating in the recruitment program, a collaboration between Lee Memorial Health System, Southwest Florida Community Foundation, CareerSource Southwest Florida, and Fort Myers and Cape Coral technical colleges, all partners in the FutureMakers Coalition.
The groups are offering tuition assistance and scholarship opportunities and are pushing for applicants for February classes at the schools. Lee Memorial hopes to hire as many CNAs as possible and the schools hope to get students trained and working in their field at Lee Memorial or other medical facilities in Lee County.
The CNA certification programs are designed to get students from the classroom to work in as little as six weeks. In addition to the hospital's benefits package, CNAs at Lee Memorial have the opportunity to transfer after six months and receive tuition assistance toward associate, bachelor's and master's degrees and specialized certification training.
"A CNA is a stepping stone to becoming a registered nurse and a career in healthcare," Michelle Zech, Lee Memorial's human resources business partner, told the group. "It gets your foot in the door."
By attending the event, participants, ages 18 to over 50, became "FutureMakers," taking the first step toward post-secondary education and the coalition's goal of increasing the number of Southwest Florida residents with college degrees or industry certifications. Lee Memorial, CareerSource and the two technical colleges are partners in the FutureMakers Coalition, a five-county regional collaboration involving education, government, business, nonprofit and citizen stakeholders and advocates.
"Honestly, I didn't know what to expect," Zech said afterward. "I thought maybe five or 10 people might show up. It was a phenomenal turnout and we're pleased with the candidates."
The group included stay-at-home mothers, restaurant employees, a school bus driver, an Army veteran and CareerSource clients. Some like Katira Davis, 22, of Fort Myers, are already working in entry-level healthcare positons.
Davis is a medical technician assistant at a center for the disabled. She'd hoped to land a higher-paying job after graduating from technical college but said many employers wanted six years' experience.
"I make just enough to live on and couldn't afford tuition to become a CNA," she said. "There's no advancement where I am and I want to keep moving up in the medical field."
Human resource employees from Lee Memorial conducted brief interviews with applicants to determine their ambition, qualifications and eligibility for tuition and scholarship assistance. Zech said the majority of attendees would be considered.
The event was a prime example of groups working together to overcome challenges and reach shared goals according to Tessa LeSage, director of social innovation and sustainability for the Southwest Florida Community Foundation, the backbone organization for the FutureMakers Coalition.
"This collaborative effort let us reach out to the unemployed and underemployed and provide them with information and financial assistance toward a better-paying job," she said. "By bringing these organizations together in one program we were able to eliminate any duplication of services, maximize resources, and fill classroom vacancies that will lead to more certifications. Ultimately it helps meet workforce needs of local employers and expands employment opportunities to Southwest Florida residents through education."
Formed in 2015 around existing regional collaborations, the FutureMakers Coalition's goal is to transform the workforce by increasing the number of college degrees and post-secondary certifications from 27 percent to 40 percent by 2025 throughout Charlotte, Collier, Glades, Hendry and Lee counties. The coalition is committed to creating a cradle-to-career pathway to ensure success for traditional students and adult learners like Michelle Macom who attended Tuesday's program.
"It's probably silly someone my age is going back to school again," said Macom, a 47-year-old mother of nine and recent divorcee. "I didn't have time to have a steady job."
The Fort Myers woman had started training as a medical assistant more than a decade ago and even made the dean's list when she had to drop out to care for her ailing father-in-the-law.
"Any financial help I could get would be phenomenal because I don't want to start my new life in debt," she said.
Jovani Mendez, 18, recently graduated from East Lee County High School, and with both parents unemployed couldn't afford post-secondary education. He wants to become a nurse practitioner and hopes to receive CNA tuition assistance to begin his medical career.
CNAs at Lee Memorial work just three days a week.
"This would help me get a quick job while I study and provide for my family," Mendez said. "It will give me money for gas. I'd be so happy to get a job. I just graduated from high school and everyone wants experience."
Crystal Mendoza, a 32-year-old Lehigh resident, calls herself "young and dumb" for not taking advantage of an academic scholarship to Florida SouthWestern State College after graduating from Cypress High.
"I would have been the first generation in my family to have a college degree," she said. "Since then, there have been barriers standing in my way. I'm a single mother and have been dealing with medical issues since I was 21."
Nursing, she said, has been a long-time passion, and solidified during regular hospital visits for dialysis and eventually a kidney transplant on Dec. 3.
"Being sick I wasn't able to go to school to become a nurse," she said. "I worked but eventually had to stop because of my illness. I want to be an inspiration to my daughter and show her you can follow your dreams if you keep pushing through. I want to be a registered nurse and help other people. I'd love to work in the transplant unit."
At 25, Dorine Murph has held a variety of jobs, working in security, as a manager of a gas station and currently as a chef in a restaurant. "I make good money but it's not a long-term career," she said.
Sierra Burton, 29, an eight-year Army veteran who specialized in supply logistics, sees completion of CNA requirements as a stepping stone to a career in healthcare.
"My mom's a nurse and my brother is a nurse practitioner," she said. "It's been really difficult to find a job."
Welling also hopes to work her way up from CNA certification.
"I want to go all the way in healthcare," she said. "My long-term goal is to work in hospice. My mother and other family members had cancer and I took care of them. This is the key to getting my foot in the door."
For more information on how to get the tuition assistance to become a CNA, contact Career Source at 239-931-8200, or email [email protected].
The FutureMakers Coalition is one of Lumina Foundation's 75 national Community Partners in Attainment. Residents are encouraged to join and support this community-changing initiative. For more information, visit www.FutureMakersCoalition.com, call 239-274-5900 or email Tessa Lesage at [email protected].
[/cmsms_text][cmsms_gallery layout="gallery" image_size_gallery="thumbnail" gallery_columns="4″ gallery_links="lightbox" animation_delay="0″]1455|http://www.futuremakerscoalition.com/wp-content/uploads/2016/01/Sierra-Burton-200×200.jpg,1454|http://www.futuremakerscoalition.com/wp-content/uploads/2016/01/Michelle-Macom-200×200.jpg,1456|http://www.futuremakerscoalition.com/wp-content/uploads/2016/01/Crystal-Mendoza-200×200.jpg,1457|http://www.futuremakerscoalition.com/wp-content/uploads/2016/01/Dorine-Murph-2-200×200.jpg,1458|http://www.futuremakerscoalition.com/wp-content/uploads/2016/01/Dorine-Murph-200×200.jpg,1460|http://www.futuremakerscoalition.com/wp-content/uploads/2016/01/Jovani-Mendez-200×200.jpg,1459|http://www.futuremakerscoalition.com/wp-content/uploads/2016/01/Jennifer-Welling-200×200.jpg,1461|http://www.futuremakerscoalition.com/wp-content/uploads/2016/01/Katira-Davis-and-Shanteria-Davis-200×200.jpg[/cmsms_gallery][/cmsms_column][/cmsms_row]