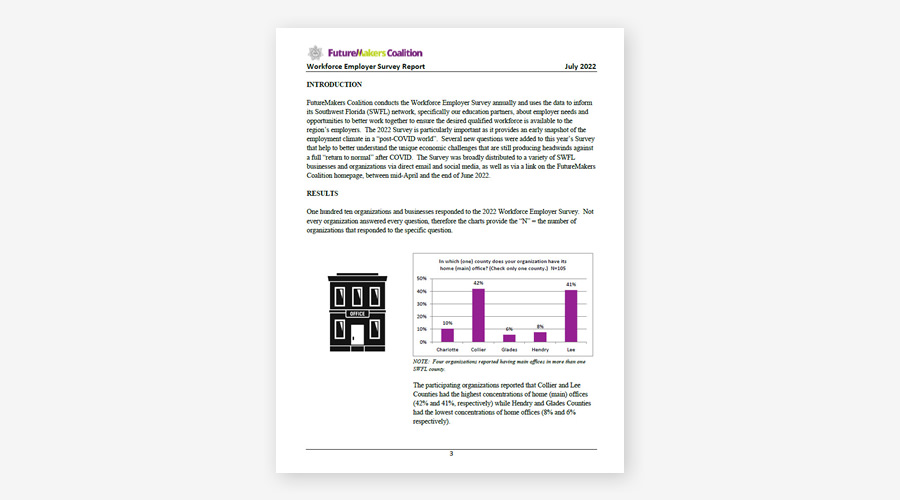 FutureMakers Coalition has released its 2022 Workforce Employer Survey Report.
FutureMakers Coalitions' goal is to transform Southwest Florida's workforce by increasing the percentage of working age (25-64 year old) adults that hold post-high school credentials to 55 percent by 2025.
FutureMakers Coalition conducts the Workforce Employer Survey annually and uses the data to inform its Southwest Florida network, specifically education partners, about employer needs and opportunities to better work together to ensure the desired qualified workforce is available to the region's employers.
One hundred and ten organizations and businesses responded to the survey. Collier and Lee County had the highest concentration (42 and 41 percent) of the responding businesses operating among the five southwest Florida counties.
Respondents to the 2022 Survey represent a broader mix of industry segments compared to the 2021 survey. Increased representation was seen from the healthcare or social services/assistance (23 percent), manufacturing (combined research + other, 9 percent), government (8 percent), and construction/the trades (7 percent) segments. Nineteen percent of the responding organizations replied that they are in education, which includes the regional universities and colleges, specialized academies, and childcare/early learning organizations. Organizations in the retail trade (2%) and accommodation/hospitality/food services (4 percent) segments, which are among the largest employers in Southwest Florida, may still be underrepresented in the 2022 survey since distributing surveys to the many individual businesses in these segments is challenging.
The largest proportion of the responding organizations (24 percent) reported having more than 500 employees, which represents a significant shift from the 2021 survey results. Last year, organizations with fewer than five employees had the highest representation.
"This information gathered from the survey is shared directly with community leaders in hopes of identifying opportunities to inform priorities and work together to address workforce-related challenges employers face," said Tessa LeSage, FutureMakers director, Collaboratory, which is serving as the backbone organization for FutureMakers Coalition. "We are thrilled more diverse employers are taking the time to complete the survey and hope this trend will increase in the future."
Highlights of the report include:
Among the 110 organizations that responded to the 2022 Workforce Employer Survey, approximately 57 percent were small employers (100 employees or less) and 42 percent were large employers (more than 100 employees).
A combined 90 percent of the surveyed organizations (up from 79 percent in 2021) reported that it is "very likely" or "likely" that recruiting and hiring new, qualified employees will be a priority in 2022.
Forty-eight percent of the organizations indicated that they would pay a higher starting salary to potential employees who have a post-high school credential (degree), certificate, or industry-recognized certification. Thirty-seven percent stated that the starting salary would depend on the specific job requirements and candidate, while only 15 percent of the organizations stated that they would not pay a higher starting salary to potential employees who have a post-high school credential (degree), certificate, or industry-recognized certification.
Ninety-three percent of the organizations reported that, in addition to an employee's salary, the organization offers additional employee benefits. Among all organizations that offer employee benefits in addition to a salary, the most offered benefits included health benefits (97 percent), paid vacation (86 percent), and personal time off (81 percent). Compared to last year's survey results, the proportion of organizations offering housing cost assistance increased from 3 percent in 2021 to 22 percent in 2022 and remote working options increased from 27 percent in 2021 to 42 percent in 2022. Over half of the organizations (51 percent) indicated that financial assistance for housing would be "very helpful" toward assisting their organizations in recruiting, hiring, or retaining qualified employees. Childcare services, both from the public sector (34 percent) and the private sector (30 percent), were also ranked "very helpful" by about one-third of the organizations.
Sixty-five percent of the organizations reported that they partner or collaborate with one or more of Southwest Florida's educational institutions to assist in finding, recruiting, and/or training qualified employees. A greater proportion of large organizations, 56 percent, reported partnerships or collaborations compared to 42 percent of small organizations. Among both large and small organizations, offering student internships/preceptorships/co-ops (95 percent) and participating in recruiting activities (84 percent) were the most often reported partnerships or collaborations.
"Working together through FutureMakers Coalition aligns all participants around common goals and interests," said Michael Wukitsch, chief people officer with Lee Heath, a FutureMakers partner. "Employer and education partnerships are essential in ensuring that our community thrives."
FutureMakers Coalition will continue to analyze the survey data and publish new results in the FutureMakers Coalition newsletter (https://www.futuremakerscoalition.com/news/) to provide new insights into the needs of the region's employers and how to gain better access to a qualified workforce.
The full report is available at https://www.futuremakerscoalition.com/reports/
FutureMakers Coalition is a regional collective impact initiative that has been designated a Talent Hub by Lumina Foundation in partnership with The Kresge Foundation to support local efforts to increase educational attainment. Formed in 2015 around existing regional collaborations, the Coalition is committed to creating a cradle-to-career pathway to ensure success for traditional students and adult learners. FutureMakers Coalition was one of Lumina Foundation's 75 national Community Partners in Attainment and is a member of the National Talent Network. Collaboratory provides backbone/administrative support to FutureMakers Coalition.
FutureMakers Coalition encourages businesses to join and invest in sustaining this community-changing initiative by visiting https://www.futuremakerscoalition.com or emailing [email protected].