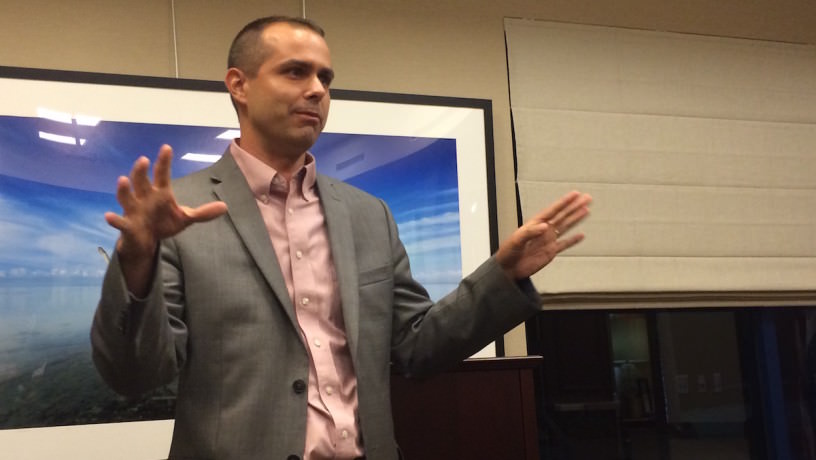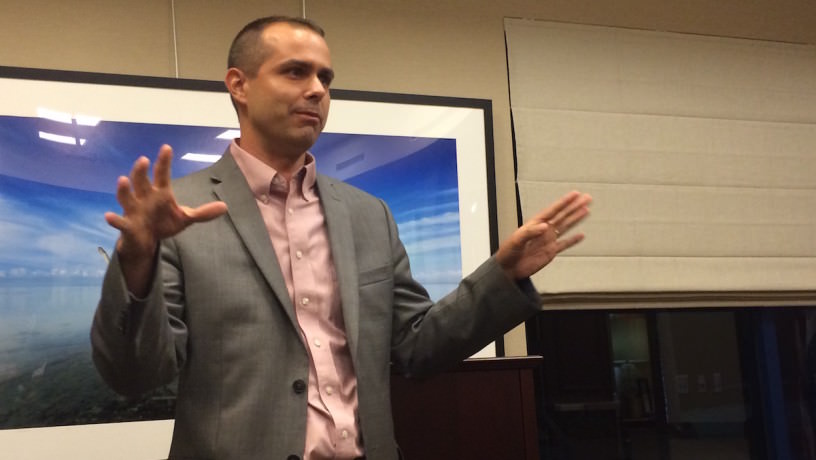 A mention of Southwest Florida easily conjures up images of beaches that look like they were plucked from a postcard, pristine manicured golf courses, and penthouse hotels that house the rich and famous.
But the people who live here know Southwest Florida is a lot more than that.
There's a growing technology industry here—a 'mini Austin'—some say. And with that comes an exponential opportunity for well-rounded growth throughout the region.
The Bonita Springs Estero Economic Development Council sponsored an event Wednesday that explored the relationship between the Southwest Florida economy and its rapidly growing technology sector.
The SWFL Tech Professionals Meet & Greet, held at FineMark National Bank & Trust, 10010 Coconut Road, Bonita Springs, attracted about 50 people, who ranged from wide-eyed college-aged students to silver-haired baby boomers.
On black fold out chairs, sitting on plush navy blue cushioned seats, the group heard from four different Southwest Floridians who came from a trio of powerful institutions. The movers and shakers included:
Ron Toll, Provost at Florida Gulf Coast University; President and CEO of the Southwest Florida Community Foundation, Sarah Owen; and Bill Schiller and Jason Dolle, who both spoke on behalf of the Sunset Coast Technology Consortium, a recently founded group of three local tech companies—REfindly, Testimonial Tree and Agent Shield—who've joined forces to share ideas, a vision for the future and strength in numbers, something the networking event aimed to do as well.
Owen talked about uniting the workforce and the Future Makers Coalition. She joked about the need for a workforce draft, while laughing along with the audience about her experience this year playing Fantasy Football.
Workers with speed, skill and tenacity, she said, are in high demand. The Community Foundation's Future Makers Coalition helps to promote the knowledge and skills needed to succeed in the workplace, while aiming to increase the percentage of Southwest Floridians who've graduated from a post-secondary institution or certificate completion program.
"Talking doesn't cook the rice," Owen said.
But taking action does.
In a little under 10 years, she hopes to skyrocket the number of adults who've completed post-secondary education by 40 percent.
"If we do this together," she said with a gleam in her eyes and a smile creeping up her face. "We're no longer talking. We're cooking the rice."
Toll spoke about potential FGCU graduates and the need to find a stable and secure job after college. Helping Owen reach her goal, he said, was FGCU's goal, too, and also that of the community.
He plans to help reach their shared goal with the university's new program, Co-Op 6, designed to give juniors and seniors full-time job experience while they're still enrolled in the university.
It could help increase and sharpen things like intellect, communication and problem solving skills, Toll said.
Typically, he said, internships last for two and a half months. Some are paid. And sometimes students only receive academic credit.
"We want to put our internship program on steroids," he said.
Modeled after a program at Drexel University, Co-Op 6 means students will work approximately 40 hours a week for six months. They will not have class obligations and will still be considered FGCU students.
"For our students," Toll said. "Imagine the impact it could have on their careers."
Schiller and Dolle talked about working together and sharing ideas.
The technology trifecta that makes up Sunset Coast Technology Consortium is REfindly, which helps generate leads for real estate agents and brokers; Testimonial Tree, a company that helps other companies and professionals better capture reviews from satisfied customers; and Agent Shield, which has a patented technology for selling new homes.
Dolle credited the natural camaraderie and formation of the consortium to the normal evolution of the "How can I help?" attitude practiced regularly by all three companies. "You learn a lot from each other," he said.
Each speaker connected their company or passion for technology to other presenters or audience members. Not only is the tech industry growing, it's insisting on growing together.
People need to stop thinking of Florida as a place to retire, said Christine Ross, executive director for the economic development council.
"Maybe kayak in the middle of the day and then go back to coding," she said, with a twinge of laughter.
It's a place for young people, too.