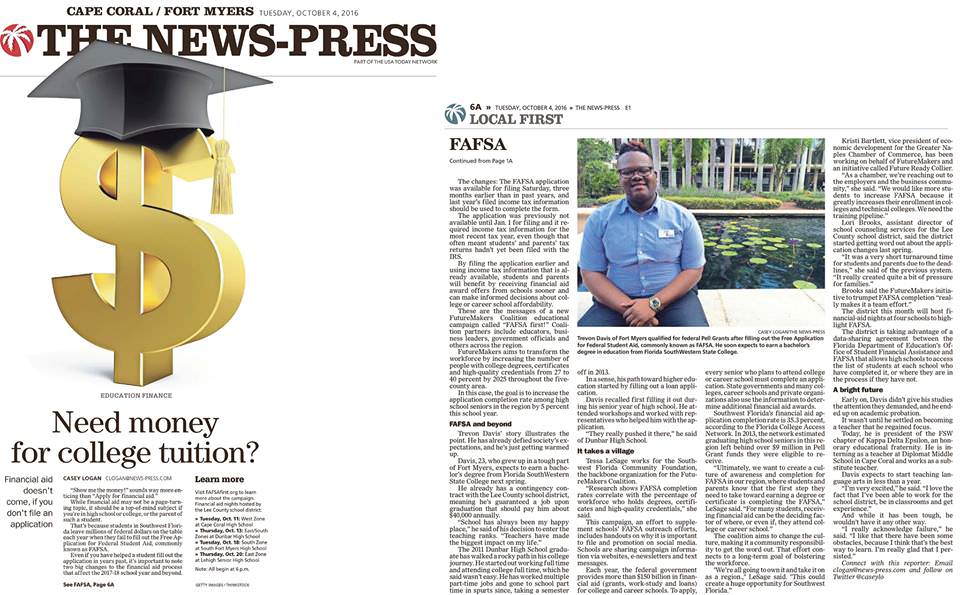 Read here: http://www.news-press.com/story/news/2016/10/03/financial-aid-doesnt-come-if-you-dont-file-application/91478466/
By CASEY LOGAN , [email protected]9:28 a.m. EDT October 4, 2016
"Show me the money!" sounds way more enticing than, "Apply for financial aid."
While financial aid may not be a page-turning topic, it should be a top-of-mind subject if you're in high school or college, or the parent of such a student.
That's because students in Southwest Florida leave millions of federal dollars on the table each year because they fail to fill out the Free Application for Federal Student Aid, commonly known as FAFSA.
Even if you have helped a student fill out the application in years past, it's important to note two big changes to the financial aid process that affect the 2017-18 school year and beyond.
The changes: the FAFSA application was available for filing Saturday, three months earlier than in past years, and last year's filed income tax information should be used to complete the form.
The application was previously not available until Jan. 1 for filing and it required income tax information for the most recent tax year, even though that often meant students' and parents' tax returns hadn't yet been filed with the IRS.
By filing the application earlier and using income tax information that is already available, students and parents will benefit by receiving financial aid award offers from schools sooner and can make informed decisions about college or career school affordability.
These are the messages of a new FutureMakers Coalition educational campaign called "FAFSA first!" Coalition partners include educators, business leaders, government officials and others across the region.
FutureMakers aims to transform the workforce by increasing the number of people with college degrees, certificates and high-quality credentials from 27 to 40 percent by 2025 throughout the five-county area.
In this case, the goal is to increase the application completion rate among high school seniors in the region by 5 percent this school year.
FAFSA and beyond
Trevon Davis' story illustrates the point. He has already defied society's expectations, and he's just getting warmed up.
Davis, who grew up in a tough part of Fort Myers, expects to earn a bachelor's degree from Florida SouthWestern State College next spring.
The 23-year-old already has a contingency contract with the Lee County school district, meaning he's guaranteed a job upon graduation that should pay him about $40,000 annually.
"School has always been my happy place," he said of his decision to enter the teaching ranks. "Teachers have made the biggest impact on my life."
The 2011 Dunbar High School graduate has walked a rocky path in his college journey. He started out working full time and attending college full time, which he said wasn't easy. He has worked multiple part-time jobs and gone to school part time in spurts since, even taking a semester off in 2013.
In a sense, his path toward higher education started by filling out a loan application.
Davis recalled first filling it out during his senior year of high school. He attended workshops and worked with representatives who helped him with the application.
"They really pushed it there," he said of Dunbar High School.
It takes a village
Tessa LeSage works for the Southwest Florida Community Foundation, the backbone organization for the FutureMakers Coalition.
"Research shows FAFSA completion rates correlate with the percentage of workforce who holds degrees, certificates and high-quality credentials," she said.
This campaign, an effort to supplement schools' FAFSA outreach efforts, includes handouts on why it is important to file and promotion on social media. Schools are sharing campaign information via websites, e-newsletters and text messages.
Each year, the federal government provides more than $150 billion in financial aid (grants, work-study and loans) for college and career schools. To apply, every senior who plans to attend college or career school must complete an application. State governments and many colleges, career schools and private organizations also use the information to determine additional financial aid awards.
Southwest Florida's financial aid application completion rate is 35.3 percent, according to the Florida College Access Network. In 2013, the network estimated graduating high school seniors in this region left behind over $9 million in Pell Grant funds they were eligible to receive.
"Ultimately, we want to create a culture of awareness and completion for FAFSA in our region, where students and parents know that the first step they need to take toward earning a degree or certificate is completing the FAFSA," LeSage said. "For many students, receiving financial aid can be the deciding factor of where, or even if, they attend college or career school."
The coalition aims to change the culture, making it a community responsibility to get the word out. That effort connects to a long-term goal of bolstering the workforce.
"We're all going to own it and take it on as a region.," LeSage said. "This could create a huge opportunity for Southwest Florida."
Kristi Bartlett, vice president of economic development for the Greater Naples Chamber of Commerce, has been working on behalf of FutureMakers and an initiative called Future Ready Collier.
"As a chamber, we're reaching out to the employers and the business community," she said. "We would like more students to increase FAFSA because it greatly increases their enrollment in colleges and technical colleges. We need the training pipeline."
Lori Brooks, assistant director of school counseling services for the Lee County school district, said the district started getting word out about the application changes last spring.
"It was a very short turnaround time for students and parents due to the deadlines," she said of the previous system. "It really created quite a bit of pressure for families."
Brooks said the FutureMakers initiative to trumpet FAFSA completion "really makes it a team effort."
The district this month will host financial-aid nights at four schools to highlight FAFSA.
The district is taking advantage of a data-sharing agreement between the Florida Department of Education's Office of Student Financial Assistance and FAFSA that allows high schools to access the list of students at each school who have completed it, or where they are in the process if they have not.
A bright future
Early on, Davis didn't give his studies the attention they demanded, and he ended up on academic probation.
It wasn't until he settled on becoming a teacher that he regained focus.
Today, he is president of the FSW chapter of Kappa Delta Epsilon, an honorary educational fraternity. He is interning as a teacher at Diplomat Middle School in Cape Coral and works as a substitute teacher.
Davis expects to start teaching language arts in less than a year.
"I'm very excited," he said. "I love the fact that I've been able to work for the school district, be in classrooms and get experience."
And while it has been tough, he wouldn't have it any other way.
"I really acknowledge failure," he said. "I like that there have been some obstacles, because I think that's the best way to learn. I'm really glad that I persisted."
Connect with this reporter: email [email protected] and follow on Twitter @caseylo
Learn more
Visit FAFSAfirst.org to learn more about the campaign.
Financial aid nights hosted by the Lee County school district:
Tuesday, Oct 11: West Zone at Cape Coral High School
Thursday, Oct. 13: East/South Zones at Dunbar High School
Tuesday, Oct. 18: South Zone at South Fort Myers High School
Thursday, Oct. 20: East Zone at Lehigh Senior High School
Note: All begin at 6 p.m.