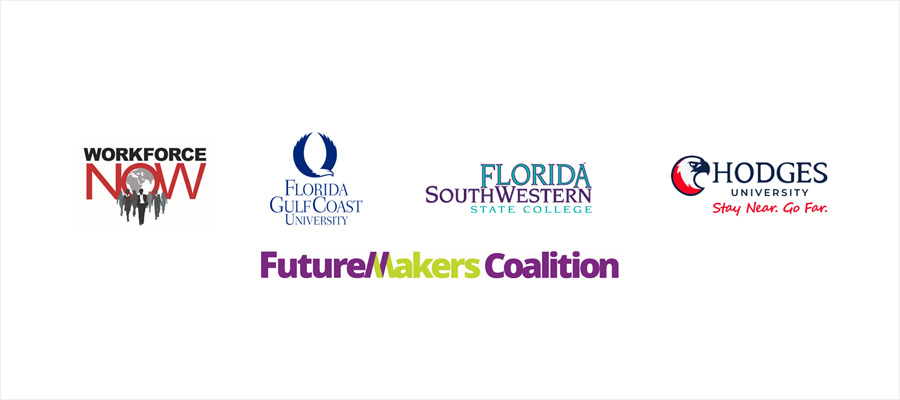 The 10th annual Southwest Florida regional educational and workforce outcomes study has been released and provides key information about demographics, education, occupations, employments gaps and projected job growth.
The study is conducted annually by Workforce Now, a research initiative that studies the regional workforce and is comprised of researchers from Florida Gulf Coast University, Hodges University, Florida SouthWestern State College and FutureMakers Coalition. FutureMakers Coalition is a cross-sector coalition from Hendry, Glades, Collier, Lee and Charlotte counties with the shared goal of closing the higher education gap and, more importantly, retaining those high-skilled Southwest Floridians in jobs within the region.
FutureMakers Coalition aims to transform Southwest Florida's workforce by increasing the proportion of skilled working age adults with college degrees, workforce certificates, industry certifications and other high-quality credentials to 55 percent. This report is one of a series created by FutureMakers Coalition with a view towards identifying opportunities and fostering outcomes to achieve the goal of 55 percent skilled working age adults in support of a diversified and resilient economy, and an improved quality of life for Southwest Florida. The report is divided into two parts: The Regional Economic Research Institute at FGCU prepares the FutureMakers Coalition outcomes and the second part is completed by Workforce Now.
The available outcomes data indicate that Southwest Florida is making positive progress towards achieving the goal with an increase in the skilled workforce from 218,586 in 2013 (the baseline year), or 39.0 percent of the working age population, to 266,075 in 2020, representing 42.2 percent of the total working age population.
Demographics show that Southwest Florida population is growing and at a faster rate than the State of Florida with primary growth occurring in the coastal counties of Southwest Florida. The working age population in the Southwest Florida region increased approximately 12.5 percent between 2013 and 2020. Similarly, the skilled workforce in the region increased approximately 21.7 percent in the same timeframe. In order to meet the 55 percent skilled workforce goal across the five Southwest Florida counties, 346,623 working age adults in the skilled workforce would have been needed, or approximately 80,000 more skilled working age adults in 2020. Progress toward the 55 percent goal is not uniform among the five Southwest Florida counties. This observation suggests that FutureMakers Coalition and its network partners must not only maintain, but expand, their efforts to identify opportunities and to foster outcomes to achieve the goal of 55 percent in skilled working age adults in support of a diversified and resilient economy.
The study is divided into three major sections including demographics, educational outcomes and workforce overview. Each of the three Educational Outcomes – Aspiration and Preparation, Access and Entry, and Persistence and Completion – begin with a "report card" of their respective indicators, along with an overview of the changes from last year's report. The report also indicates the top growth occupations by major occupational group, level of education, and their median hourly wages.
Educational outcomes suggest an overall retreat in Aspiration and Preparation, Access and Entry, Persistence and Completion measures from the 2021 scores. This regression in educational outcomes may reflect more the impact of the COVID-19 pandemic on data collection rather than any actual decline in educational achievement. Selected outcomes are presented by race and ethnicity and by gender when available. Despite any impact COVID-19 may have had on school systems, past trends across the races and ethnicities remained the same. In general, Southwest Florida's residents who identify as Black or Hispanic and Latino achieved worse educational outcomes, suggesting further efforts are needed to support priority populations – adults with some college, but no degree; adults with no education post-high school, and traditional-age students who are at risk of not pursuing and completing education beyond high school. Businesses and education institutions must design and implement policies and procedures that support equitable outcomes for all and maximize opportunities for the untapped Southwest Florida workforce – the nearly 60 percent working age adults who do not currently hold a high-quality credential beyond high school.
The information in the report lays the groundwork for additional research and further evaluation to be developed by FutureMakers Coalition and its network partners regarding geographic, racial, ethnic, and gender inequities. Rigorous definitions and more accurate means of measurement of inequities in education and in the workforce must be identified and developed and barriers must be removed to meet the 55 percent goal by 2025 for Southwest Florida.
The Workforce Now report indicates that of the 424,494 workers reported in 2021, retail trade was the largest industry, with 17.3 percent of all workers in the region. Accommodation and food services was the next largest industry (14.3 percent), followed by health care and social assistance (14.1 percent) and construction (13.6 percent). Retail trade and accommodation and food services were also among the lowest paying jobs in the region, with average annual wages of $39,222 and $28,588 respectively. The average annual wage for all industries in Southwest Florida was $53,274 in 2021, up 7.7 percent from 2020.
Construction was by far the fastest growing industry in 2021, with employment growing by over 11,000 since 2017. Professional and technical services had the next highest growth (5,206 employment increase), followed by health care and social assistance (4,804 employment increase), manufacturing (2,305 employment increase), and transportation and warehousing (2,074 employment increase).
Health care and social assistance is projected to see the highest average annual growth between 2021 and 2029, adding 1,757 new jobs each year. Accommodation and food services had the next highest average annual growth (1,565 new jobs), followed by construction (972 new jobs), retail trade (908 new jobs) and government (903 new jobs). When combined, these five industries represent approximately two-thirds of all new jobs to be created over the next eight years.
The report also introduces a number of new topics for the reader, including an in-depth analysis on which industries represent competitive advantages for the region, how seasonality has played a role in the economy, and a detailed look into job openings by occupation and educational attainment levels, both in the short- and long-run.
The full study can be downloaded from the FutureMakers Coalition site at https://www.futuremakerscoalition.com/reports/