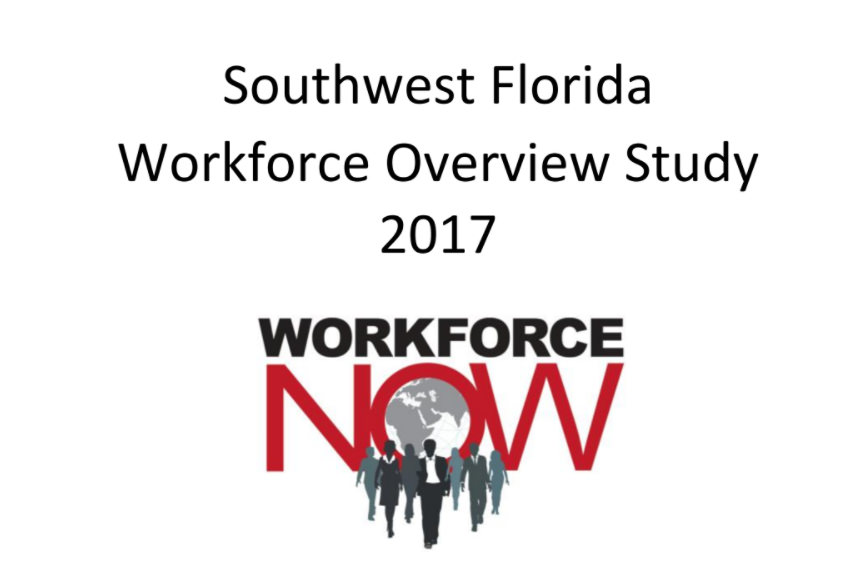 The fifth annual Southwest Florida workforce overview study has been released and provides key information about industries, occupations, employments gaps and projected job growth.
The study is divided into three major sections including historic, current, and projected employment by industry; employment gaps by occupation as of Summer 2017 and projected employment demand by occupation.
Which Southwest Florida occupations have the largest gaps between the number of workers demanded by employers and the available supply in the labor market?
According to this year's study, three of the top 10 occupations (registered nurses, physical therapists and speech language pathologists) are in the health care industry, which compares from two of the top 10 in the previous year's report. Others include retail supervisors and salespersons, supervisors for food preparation and serving, landscaping and groundskeepers, maintenance and repair workers, construction trades supervisors and workers and office administrative supervisors and workers.
The study is conducted annually by Workforce Now, a research initiative that studies the regional workforce and is comprised of researchers from Florida Gulf Coast University, Hodges University and Florida SouthWestern State College. Workforce Now is a partner in the FutureMakers Coalition, a cross-sector coalition from Hendry, Glades, Collier, Lee and Charlotte counties with the shared goal of closing the higher education gap and, more importantly, retaining those high-skilled Southwest Floridians in jobs within the region.
The Florida Department of Economic Opportunity study/data identified 5,073 current employment gap positions for Southwest Florida, signifying a 7-percent increase (or 348 positions) compared to the figure reported in the Workforce Overview Study for 2016.
"We have a strong regional economy with unemployment levels well below those of the state and the country," Christopher Westley, director of the Regional Economic Research Center at Florida Gulf Coast University, said.  "The issue we face is that drivers of our employment are tied to retirement and tourism, and as a result, our median wages consistently lag those of the state at large. It can make it difficult for many workers to afford living in the region."
The top 10 projected high demand regional growth occupations for 2016 to 2024 are retail salespersons with an average annual demand for 1,436 employees per year. This is followed by waiters and waitresses at 1,079 employees per year, cashiers at 770 employees per year, food preparation and serving workers at 642 employees per year, and landscaping and grounds keeping workers at 489 employees per year. The next five highest occupations in demand are registered nurses, restaurant cooks, customer service representatives, office clerks and stock clerks.
"Southwest Florida has a comparative advantage in weather (sunshine and mild winter temperatures), beaches and recreational activities," said Dr. Aysegul Timur, Dean, Johnson School of Business Hodges University. "These quality of life characteristics are drivers that support the key industries in Southwest Florida, such as retail trade, health care, accommodation and food services, construction and support services."
Additional findings of the study include:
The data show consistency with those of last year, in terms of the positions listed, median wage, and minimum education required. There was a small amount of fluidity in the order and type of positions listed. For instance, registered nurses rose from 8th to 4th in terms of short-term employment gaps in the present survey; meanwhile, its median wage rose a mere 49 cents. Half of the positions require some college or higher. Of the 1,850 positions comprising the Top Ten Short-term Employment Gaps, 67 percent require no college at all.
Economic recovery continues with employment and unemployment rates reaching levels closer to normal long-term values;
Southwest Florida has 557,245 employed workers in 2016, compared to 9.36 million employed in Florida and 151.44 million for the nation;
The average annual Southwest Florida wage is $40,871 compared to $46,345 for Florida and $53,503 for the nation;
The largest industries by employment are retail trade (19.0%), accommodation and food services (15 %), health care and social assistance (14%), construction (11%), and administrative and waste services (8%);
The largest industries by wage income are health care and social assistance (17%), retail trade (13%), construction (12%), professional and technical services (9%), and accommodation and food services (8%);
"The goal is to use data like ours and use it to help allocate scarce educational resources in our region to address its workforce needs," Westley said.  "But it can be hard in a dynamic market."
The full study can be downloaded from the Regional Economic Research Institute's web site at  https://www2.fgcu.edu/cob/reri/wfn/
The FutureMakers Coalition's goal is to transform our workforce by increasing the number of Southwest Florida residents with degrees, certificates and other high-quality credentials by the year 2025. The FutureMakers Coalition encourages residents to join and support this community-changing initiative. For more information, visit www.futuremakerscoalition.com, call 239-274-5900 or email Tessa LeSage at [email protected]
Contact: Dr. Christopher Westley, Director of the Regional Economic Research Institute
239-590-7090 or [email protected]