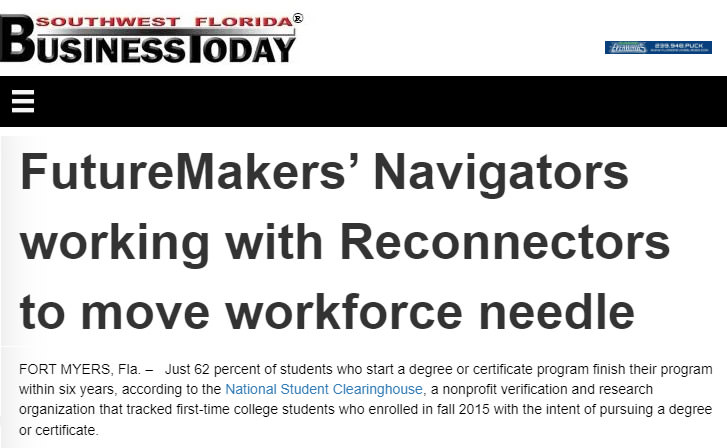 Just 62 percent of students who start a degree or certificate program finish their program within six years, according to the National Student Clearinghouse, a nonprofit verification and research organization that tracked first-time college students who enrolled in fall 2015 with the intent of pursuing a degree or certificate.
Southwest Florida is in high demand of qualified workers in a multitude of industries and the need is only growing. Since 2014, FutureMakers Coalition has been working toward a goal of transforming Southwest Florida's workforce by increasing the percentage of working age (25-64 years old) adults who hold post-high school credentials to 55 percent by 2025. Positive progress towards achieving the goal has been made. In 2013, 39 percent qualified and that number increased to 43.7 percent in 2021.
But more work needs to be done.
In 2022, the Navigator program was created as part of a $300,000 grant from Bank of America funded by the bank's multi-year commitment to further FutureMakers Coalition's goal of transforming Southwest Florida's workforce.
Through the grant and other funding, FutureMakers Coalition Navigators began requesting and seeking referrals to connect adults needing training programs to acquire better paying jobs as well as students who previously attended college but did not complete a credential or certification. These referrals are called Reconnectors.