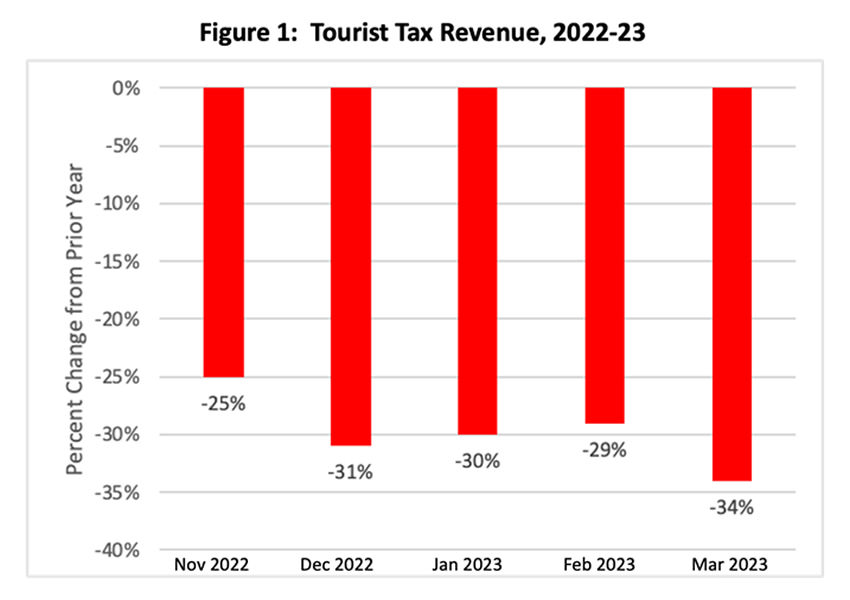 In follow-up to an April 2023 newsletter article, the June 2023 Regional Economic Indicators, published by FGCU's Regional Economic Research Institute, confirms the lingering economic damage Hurricane Ian had throughout the peak of SW Florida's tourist season.  One critical gauge of Ian's direct economic impact – Tourist Tax Revenue (Figure 1) – is especially informative.
The Tourist Tax Revenue data is reported monthly from each of the three visitor convention bureaus in Charlotte, Collier, and Lee counties.  It is important to note that the data represent ONLY the bed tax collections that are imposed on short-term rental stays (less than 6 months) at establishments such as hotels, motels, resorts, and Airbnb's.  In a region that is so dependent on its part-time, seasonal residents and spring break sun-seekers, the Accommodation and Food Service industry – one of the region's largest employers – was particularly vulnerable due to the extensive damage and/or destruction of property and resulting loss of jobs (especially along Fort Myers Beach).  It is safe to say, however, that the ripple effects of hurricane Ian spread across many tourist-dependent industries like Retail, Arts, Entertainment & Recreation, Real Estate (Rental &Leasing), and Transportation.  Finally, several public and private schools, especially in Lee County, were temporarily closed (some for the long-term while options are discussed to either repair or demolish and rebuild damaged structures), once again disrupting the school year for thousands of students.
In addition to how the economic impacts of Hurricane Ian may influence FutureMakers Coalition's ongoing efforts to make sure 55% of adults between the ages of 25-64 in our region have education beyond high school by 2025, the lingering and widespread impact of Hurricane Ian will certainly be part of the discussion within two new coalitions facilitated through FutureMakers Coalition – Health & Wellness and Stable & Attainable Housing.  The goal of the Health & Wellness is to transform SW Florida to be among the healthiest communities in the nation by exceeding the 90th percentile for Health Indicators (Length of Life and Quality of Life) by 2040.  The Stable & Attainable Housing coalition is working to ensure 80% of people in Southwest SW Florida have access to housing and transportation that cost less than 45% of their income by 2040.  If any of these initiatives are of interest to you, please join FutureMakers Coalition's network of talented and committed individuals who are making a difference in their communities!