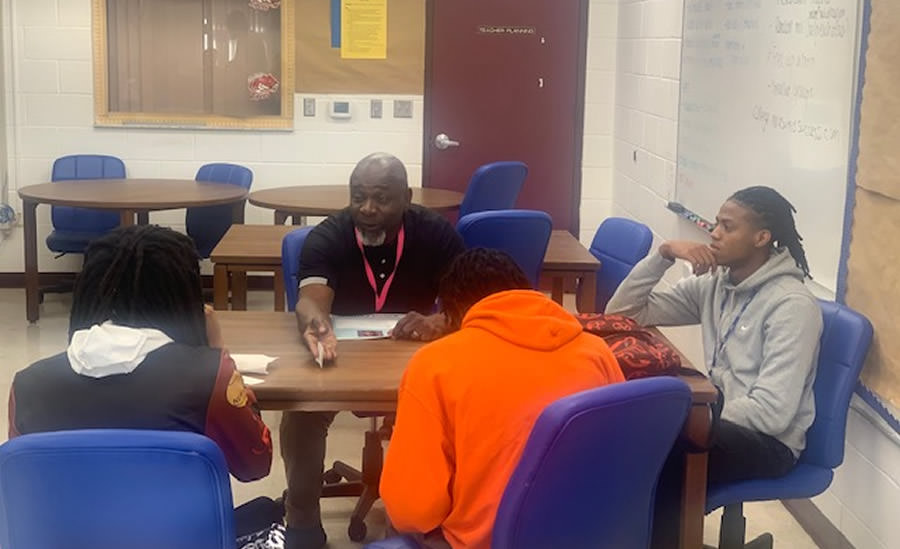 Dedicated educators & community mentors help 13 male students achieve graduation.
In the fall of 2021, Hendry County School Superintendent and Clewiston native Mike Swindle made a commitment to tackle an education challenge in his district. His goal, increase high school graduation rates in rural Hendry County, Florida. As a pilot project to understand what it would take to achieve that goal, he gathered dedicated educators as well as community mentors to help 13 Clewiston High School students, would not have otherwise been able to graduate, do just that.
In January 2022, the group identified 30 black male high school seniors who were in danger of not graduating by May. A majority of them needed help with standardized tests. With the extra supports, many would be able to meet their graduation requirements. This left 13 that were still off track and wouldn't graduate on time.
According to Swindle, one male was nine credits short; several of them had not come close to passing state standardized tests; several others were multiple credits short and some of them had attendance issues including one student that had missed a total of 62 days of school.
The team went to work figuring out how to help them individually achieve graduation so their futures wouldn't be left in doubt. By May, all but four of the original 30 students identified graduated and the four remaining students are still eligible and the work needed to fulfill their credits, take the General Educational Development Test (GED) and earn a high school equivalency credential.
"What Mike and the team at Clewiston High School accomplished is a perfect example of what FutureMakers Coalition is all about," said Tessa LeSage, FutureMakers director, Collaboratory, which is serving as the backbone organization for FutureMakers Coalition. "This shows the impact of what we can do when we work together putting an intentional focus on the pre-K to 12 part of the talent pipeline. This team moved the needle toward our goal of creating a robust and sustainable workforce for the region by uncovering the level of supports some students need to graduate. A diploma is a required step along the pathway to a well-paying job."
Swindle and the Hendry County School District has been part of FutureMakers Coalition since 2015. FutureMakers Coalition aims to transform Southwest Florida's workforce by increasing the proportion of working age adults with college degrees, workforce certificates, industry certifications and other high-quality credentials to 55 percent by 2025.
LeSage added that to be sustainable, Coalition partners like Hendry County, must change policies and practices that may be unintentionally creating barriers to attainment and ultimately securing well-paying jobs. The district's efforts here illustrate a great example of how communities start to understand impediments for students to do that.
"High school graduation rates are directly tied to workforce development which Mr. Swindle knows firsthand formerly being Director of Workforce Development for Hendry County Schools and a former county commissioner," she said.
There is an enormous amount of poverty in the rurally located Hendry County. It has a high teenage pregnancy rate, a very high unemployment rate and the lowest per capita income in the state.
While in workforce development, Swindle tried to improve the county's workforce by waiving fees for GED courses, welding certificates and more but still not much improvement happened. Next he hired Hispanic and black liaisons to go out into the community to reach populations where they gathered to try and communicate the importance of completing high school and achieving a certificate for a trade.
"While we were reaching more people we still got next to nothing," he said. "But it became evident that you have to get on the level of acceptance to the individuals that are needing help or you have no credibility."
He said he knew that if his new team was going to be successful in helping this targeted group of seniors graduate, he needed people that these young men could relate to and that could understand them.
So he brought in community leaders, educators and mentors that were very well known and trusted and that had a long-term history with the school and in some cases these families. Working alongside Clewiston Principal and CHS alumni Phillip Summers, Administrator of School Improvement Stevonia Allen, District Director Secondary Schools Roberto Sanchez, Guidance Counselor Renee Jackson and three community mentors, Howard McKire, Johnny Jackson and Eddie Warren.
McKire is a 1976 alumni of Clewiston High School and was the school's first black football quarterback. His father was the school's first black principal in the 70s. After graduating from the University of Florida and before moving back to Clewiston, Howard worked with schools in Battle Creek, Michigan.
"My passion is mentoring kids and meeting with them in their environment, but more so in getting kids to see someone that looks like them," he said. "To be successful in reaching them they need to know you have their back. Put in time for phone calls and let them know they can call you and you expect them to call you."
By March, the group, now calling their project CHS Champions, was really concentrating on what was keeping these young men out of graduation and how to get them across the finish line.
Miss Allen developed player cards for each of the students that like an NFL draft card that included their photo, status and what they needed to achieve to graduate.
At the same time, Jackson and Warren were developing relationships with the students including getting to know their families if they didn't already know them from growing up in Clewiston. They made phone calls on weekends, nights and had the students call them on weekends.
"When I would explain to some of them I knew their granddaddy we made an instant connection," McKire said. "I told one student from South Bay to call me between 9 p.m. and midnight. He called me at 10 minutes before midnight. That's what it takes. You have to be there for them and talk about things that interest them."
Miss Jackson kept up with the day to day changes the multiple students were making and reporting the progress back to the team. Along with Miss Allen, the pair kept the students, as well as their mentors and parents, informed.
The team met with the students at a minimum of once per week and met as a whole group twice within the six weeks.
"We'd get past one hurdle and then we'd say, 'what's next' and meet with the students on how to get over the next hurdle," Jackson said.
Principal Summers kept an active role in seeing the students so that they knew the highest level of the school administration was rooting for them to succeed.
"It was again a trust factor," Summers said. "We didn't want them to shut down when I walked in the room but instead open up about what they needed so they could be successful. I think it means a lot to these students when they see everyone is behind them and rooting for them."
And the community is behind the district and the CHS Champions. Mechanical companies, U.S. Sugar and healthcare facilities are desperate for skilled workers. Clewiston High School has a dual enrollment program where students can graduate with certificates in nursing, welding, AC refrigeration and diesel mechanics and go right to work after graduation.
"It's like a standing order. I have a company saying, 'if you get 10 diesel mechanics trained this year we will take them all,' " Swindle said. "There's a huge demand for skilled workers in our community. It is pivotal for us to understand how we need to be servicing the community with the students we are producing."
As for the next steps for the CHS Champions group they plan to continue and grow the program as needed.
"We had to get through this first cycle to make sure that the theory would work and was viable," said Swindle. "We are looking to develop a complete model that is not unique to us but can be used anywhere. We know the key component is having people that care and mentors that have their hearts in the right mindset."
"I'm committed to this school not only because my son is a student here and I am an alumni, but also because I'm very invested in our community," said McKire. "I want these students to see that there is something beyond this place called Harlem and Clewiston. We had a strategy we focused on in Michigan called Choice Theory that basically says every behavior is based on a child or a person wanting something. So how do we get to these kids right here not only to graduate but to realize what they really want and to achieve it."
"I couldn't be prouder of what happens when a community of educators and people who care come together to rally around a problem and make a huge difference in solving it," Swindle said. "Without a high school diploma or GED, these young men could have fallen victim to the streets and would have gone down a path that would not have been productive, but now they have a chance. Now they have an opportunity to be productive citizens and earn a living. We want that for all our students."