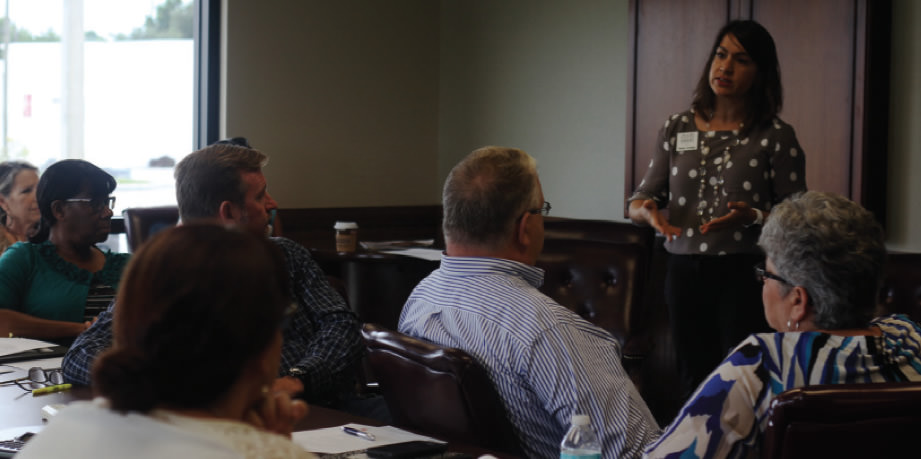 BY MELISSA BELTZ
Th e Clewiston News
Members of the Southwest Florida Community Foundation visited the Hendry County Education Task Force Tuesday to announce a new regional initiative called the FutureMakers Coalition.
The FutureMakers Coalition is intended to bring together fi ve counties to increase the number of people in Southwest Florida with highquality degrees, certifi cates and other credentials to 40 percent by the year 2020, according to a press release issued in March by the community foundation.
Currently, that number is 27 percent in Hendry, Glades, Lee, Collier and Charlotte counties. FutureMakers is not about creating more work, but linking together the great work that's already being done in those fi ve counties and working smarter together as a region, said Dr. Dave Fleming, of Southwest Florida Community Foundation, on Tuesday.
FutureMakers will work with the fi ve counties individually on initiatives that are important to each county, while helping them access resources and best practices in other parts of the fi ve-county region, and on a state and national level.
In Hendry County, increasing the number of four year olds in Voluntary Pre-Kindergarten (VPK) programs and increasing the amount of certifi ed instructors in the private VPK sector has been the Education Task Force's main goal. FutureMakers would work with the task force to create initiatives and provide resources to help it achieve its goal.
Like the Education Task Force, FutureMakers wants to align education and business within the community.
FutureMakers was made possible through a partnership with Indianapolis-based Lumina Foundation, whose mission is to expand student access to and success in education beyond high school.
New Career Coach at CHS
The Education Task Force announced it had created a brand new position at Clewiston High School using grant money awarded through the Hendry County Economic Development Council. Jessica Burgos, a 2011 Clewiston High graduate and current student at Florida Gulf Coast University, will serve as career coach at Clewiston High School.
Her three main tasks include driving up the number of students taking the SAT and ACT and improving student performance on each test; increasing the number of students completing the FAFSA (Free Application for Federal Student Aid); and identifying students at the high school interested in pursuing careers in education and steering them in the right direction to accomplish those goals. Initial certifi cation to teach in a Voluntary Pre-kindergarten program could be a fi rst step students take towards becoming an educator.
"This is going to be tough. It's something we've never done, but teamwork makes the dream work," said Burgos light-heartedly at the Education Task Force meeting held Tuesday, Sept. 8. Burgos' tasks fall in line with the Education Task Force's goal of creating an educated workforce in Hendry County and retaining those individuals after graduation.
As part of this goal, the task force also funded another Clewiston High graduate currently studying education at Florida Atlantic University, Taylor Beebe.
Beebe wanted to student teach in Hendry County, but her university drew the line at Hendry County for funded student teaching positions. The task force was able to raise $750 for Beebe to student teach at a district school.
VPK Attendance Up
School District member Stephanie Busin announced that efforts to increase awareness of Voluntary Pre-Kindergarten (VPK) by placing signs around the community had increased enrollment
by 52 kids between Aug. 14 and Sept. 1. The signs were created in partnership with United Way, and placed in various locations across the county.
The initiative helped increase the number of enrolled students from 236 on Aug. 14 to 288 on Sept. 1.
There are still about 91 seats open in the private Voluntary Pre-Kindergarten programs in LaBelle and Clewiston. The task force identified some of the barriers to getting parents to enroll their four years olds in these free programs, which include transportation and private facilities only offering half-day programs. School district run programs are always at capacity because it offers free, full-day pre-kindergarten.