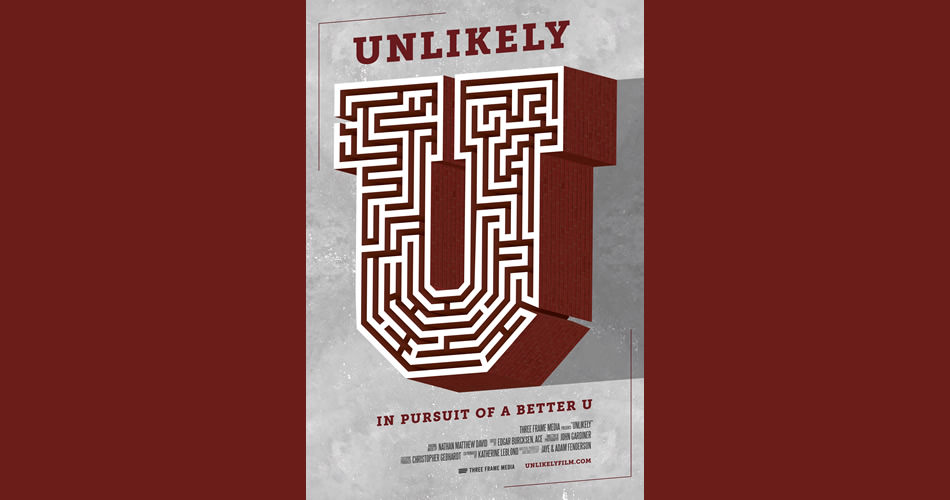 In partnership with Lumina Foundation, the Southwest Florida Community Foundation's Collaboratory will screen the film Unlikely on Tuesday, February 25, 2020.
Doors will open at 5 p.m. and the screening will begin at 5:30 p.m. A discussion of the film will follow the screening. The cost is free but attendees must register by visiting https://events.blackthorn.io/36ojFe6/4a4H1RlwEb
Set in the cities of Akron, Atlanta, Boston and Los Angeles, Unlikely follows five individuals
failed by America's higher education system fight for a second chance at opportunity.
In the US less than 50 percent of students who start college ever finish, making America's college completion rates among the worst in the world. Now there are more than 35 million Americans who started college but never finished, leaving them saddled with debt, and behind their peers in
earning power. Featuring interviews with LeBron James, Howard Schultz, and our nation's leading voices in education, this penetrating and personal new film investigates America's college dropout crisis through the lives of five diverse students as they fight for a second chance at opportunity and
highlights the innovators reimagining higher education for the 21st century.
Unlikely is directed and produced by husband and wife filmmaking team, Jaye and Adam Fenderson, the founders of Three Frame Media and producers of the award-winning documentary film First Generation. With a combined 25 years of film and television experience and credits spanning acclaimed shows for NBC, MTV, Lifetime, Discovery, ABC Family, E!, CNBC, and Spike, the Fendersons are passionate about harnessing the power of media to advocate for issues of social justice and mobilize audiences to effect change.
For more information, visit Unlikelyfilm.com.
The FutureMakers Coalition is a regional collective impact initiative that has been designated a Talent Hub by Lumina Foundation in partnership with The Kresge Foundation to support local efforts to increase educational attainment. Formed in 2015 around existing regional collaborations, the goal of the FutureMakers Coalition is to transform the workforce by increasing the number of Southwest Florida residents with degrees, certificates and other high-quality credentials by 2025. The Coalition is committed to creating a cradle-to-career pathway to ensure success for traditional students and adult learners. The FutureMakers Coalition was one of Lumina Foundation's 75 national Community Partners in Attainment and is a member of the Lumina Community Network. The Southwest Florida Community Foundation provides backbone/administrative support to the FutureMakers Coalition.