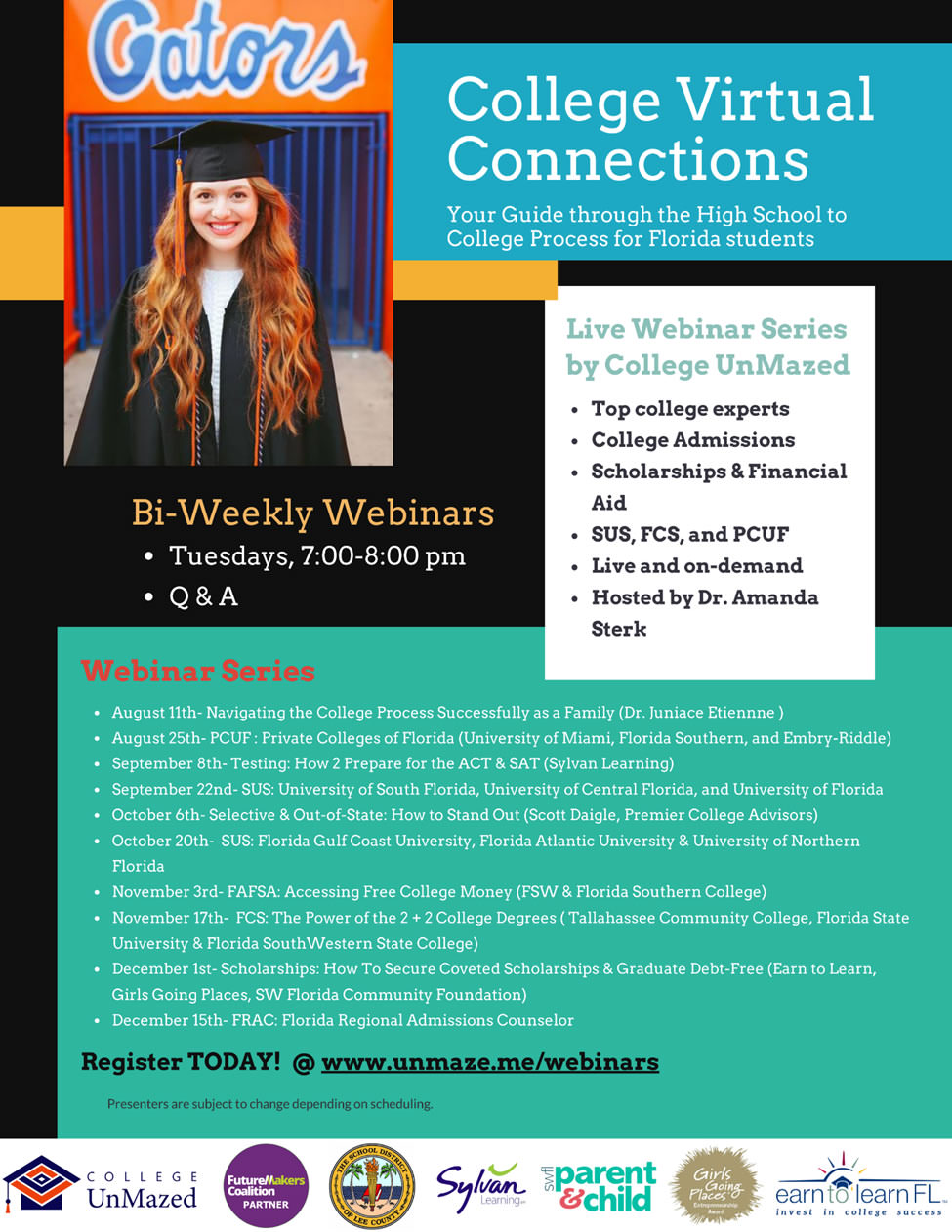 After having a successful college and career readiness webinar program last year, the College & Career Readiness Project Team under the Access & Entry Action Team created College Virtual Connections, launched a series of live webinars with local and state college experts.  Over 600 students registered from the five county area tuned in bi-weekly to hear information about college admissions, 2+2 programs, scholarships, financial aid, career planning, and test prep. Dr. Amanda Sterk hosted all participants that ranged from colleges and universities like University of South Florida, University of Florida, Florida SouthWestern State College, Florida Gulf Coast University, Florida State University, Embry-Riddle Aeronautical University, University of Miami, as well as other education experts like ACT, Sylvan Learning Centers, Girls Going Places, and Southwest Florida Community Foundation.
Multiple businesses and organizations supported College Virtual Connections, such as College UnMazed, Sylvan Learning Center, Lee County School District, Girls Going Places, Earn to Learn, and the SW Florida Parent & Child Magazine. Some of the outcomes from the College Virtual Connection include having over 349 live attendees and over 110 participants replay the webinars. The highest watched webinar was with the University of South Florida, University of Florida, and University of Central Florida with over 180 live participants.
Having this event through an online live webinar program because of COVID-19 proved to be beneficial. The virtual environment gave all students flexibility in attending across the 5-county area. With the cancelling of many college admissions events, like college fairs, this provided students access to a varied amount of information. Even if students and parents missed the webinar, they were able to catch the replay the next day. It also created a database of webinars for school counselors to use. All the webinars are on-demand on the new College UnMazed app, for iOS and Google Play, and can be accessed for free at any time.