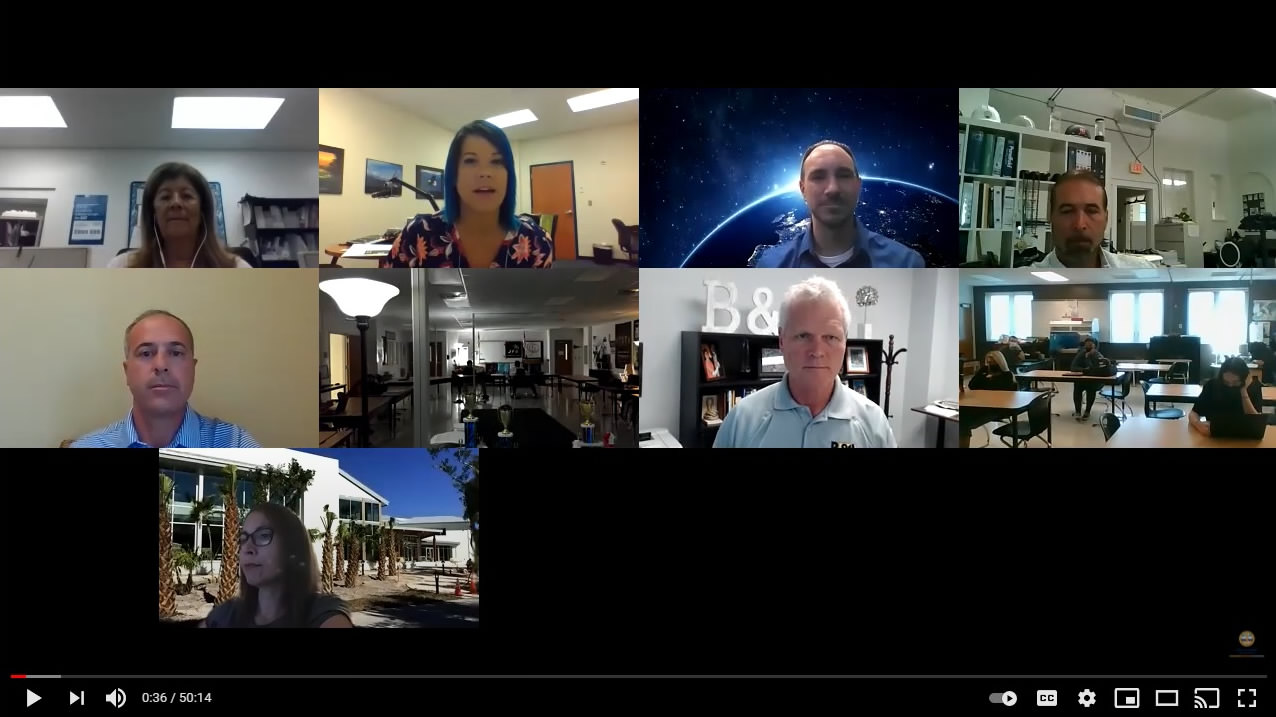 A pair of initiatives in Southwest Florida aim to get the region's younger residents — and future potential talent — invested in the community they live in by addressing a question posed by Kelly Thawley, a career specialist for the School District of Lee County:
"How can we get career explorations out to our students who don't always have access?"
EXCEL Bus
Thawley is the (literal) driving force behind a new project aimed at bringing career exploration straight to 5th graders in Lee County.
The district's EXCEL (Excellent Career Exploration Lab) Bus is a converted school bus that will house five interactive kiosks highlighting a different career path. An official rollout is scheduled for the fall.
Thawley spearheaded the project and earned a Commercial Driver's License (CDL) in the process, which means she'll be driving the bus to each elementary school next year herself.
"Our hope is to get out to each elementary school at least once a year," Thawley said. "If it means I get to drive a bus, even better!"
The EXCEL Bus was donated by the district's transportation department, which also will also help maintain the vehicle. Thawley said she relied on businesses in the area to handle the renovations, which included removing the seats to install interactive stations and giving the bus its current, colorful appearance.
Although the bus will give students an opportunity to explore high-demand career fields like healthcare and manufacturing — and some of the fields will be utilizing VR (virtual reality) software — Thawley wants to reiterate that the EXCEL Bus is purely meant for exploration.
"We're not asking them to make a future decision for their life," Thawley said with a laugh. "They're in 5th grade."
Career Ed Talks
Another recent initiative has sought to amplify the career opportunities available in one Southwest Florida county throughout the rest of the region.
Last fall, Lee County's CTE (Career and Technical Education) team began posting a series of career exploration videos on its YouTube page about twice a month.
Each "Career Ed Talk" features 2-5 speakers and focuses on a different career cluster: past episodes have focused on "Architecture and Construction," "Hospitality and Tourism," and "Engineering and Technology Education." Thawley said the district collaborates with the Foundation for Lee County Public Schools and FutureMakers Coalition — the local college access network serving five counties in Southwest Florida — to find speakers for each panel.
She added the videos were initially created as a response to COVID-19. During the 2019-20 school year, the district and FutureMakers' Access & Entry workgroup had organized a series of in-person career panels at different Lee County high schools.
"When COVID hit, we had to think of a new way to continue with the panels," Thawley said. "We decided to do one of them virtually in the Spring (2020), and it went really well."
Tessa LeSage, director of the FutureMakers Coalition saw an opportunity to amplify the reach of the content created by the Lee school district, a FutureMakers partner.
"Because of the FutureMakers spirit we all have, we advertised them (Career Ed Talks) to anyone who wants to tune in virtually or watch them on YouTube," LeSage said. "They're now able to benefit the whole region, as opposed to one school or even just one district."
The Career Ed Talks align with FutureMakers' efforts to increase career exploration as a method of meeting the region's shared attainment goal.
"Oftentimes, if a student is going into an academy, they are choosing a career pathway by the time they are choosing a high school," LeSage said. "The goal is to see if we can start career exploration earlier."