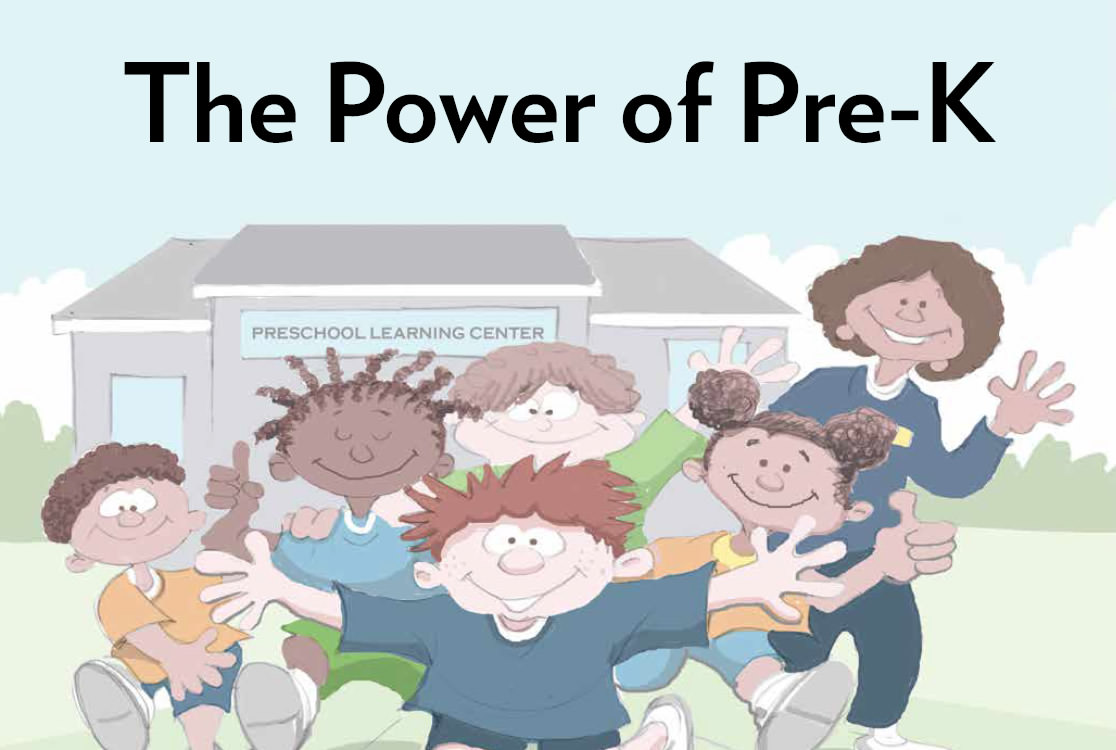 Goal to educate region's parents about the importance of enrolling children in free, quality early childhood education
In 2019, the Early Childhood Communication Project Team of the FutureMakers Coalition utilized survey results of the Southwest Florida region to develop tools for community outreach to parents of upcoming Voluntary Pre-K (VPK) eligible children.
The tools will be used to increase engagement with parents on the importance of obtaining quality, early childhood education and that it is free. They will also serve as a resource to employers for their employees as well as area pediatricians who also have a high cross-section of pre VPK-aged children as patients.
The "Power of Pre-K" tools were recently unveiled and include children's books, posters and rack cards written by the Early Childhood Parent Communication Workgroup and illustrated by local cartoonist Doug MacGregor that highlight the importance, availability and access to free, quality VPK.
The materials feature kid-friendly, colorful illustrations showing a year in the life of a Pre-K student, information on the success rates of children who accessed quality VPK vs. those that began education at kindergarten and how to find out more information and enroll children in VPK.
"The Early Childhood Coalition is always trying to reach families about the opportunity to send their children to VPK. It is free and widely available," said Susan Block," convener of the FutureMakers Early Childhood Communication Project Team and chief executive officer of the Early Learning Center of Southwest Florida. "Participating in this project as a FutureMaker exponentially expands our ability to communicate the message."
The materials will be distributed and available through targeted pediatrician's offices, onsite health clinics and break rooms where available at the area's largest employers and local health facilities that provide annual shots for children under the age of four.
"Our kindergarten teachers can tell the difference between children who have attended Prekindergarten programs and those who haven't," said Scott Bass, superintendent of Schools Glades County School District. "The free Florida VPK program offers all children that opportunity to be prepared for school."
The FutureMakers Coalition provided a $33,000 grant for development of the books, posters and rack cards, including funds for printing, content creation and curators.
The FutureMakers Coalition has two teams focused on a regional outcome to increase kindergarten readiness. The Early Childhood Project Teams, have been working together for more than a year to develop a program plan around this campaign to increase demand for quality early childhood education.
In addition to Block, the Early Childhood Communication Project Team members responsible for the development of the campaign include the Early Learning Coalition of Southwest Florida, Kristi Biffar, Jennifer Black, Nancy Coker, and the Southwest Florida Community Foundation.
"Research supports the value of early childhood education as it relates to children's health," said Michele King, director Child Advocacy Programs for Lee Health. "For full-day programs, children are often taught healthy eating habits and encouraged to be active which promotes life skills that prevent obesity. At preschool, children learn important social and emotional skills, which are needed throughout their lifetime. We are excited to distribute the 'Power of PreK' and hope it encourage families to enroll in the state's free prekindergarten program VPK."
The FutureMakers Coalition is a regional collective impact initiative for which the Southwest Florida Community Foundation provides backbone/administrative support. Formed in 2015 around existing regional collaborations, the goal of the FutureMakers Coalition is to transform the workforce by increasing the number of Southwest Florida residents with degrees, certificates and other high-quality credentials by 2025. The Coalition is committed to creating a cradle-to-career pathway to ensure success for traditional students and adult learners. The FutureMakers Coalition was one of Lumina Foundation's 75 national Community Partners in Attainment and is a member of the Lumina Community Network.
For more information about the Power of Pre-K campaign, visit schoolreadySWFL.org, call 239-274-5900 or email Tessa LeSage at [email protected].