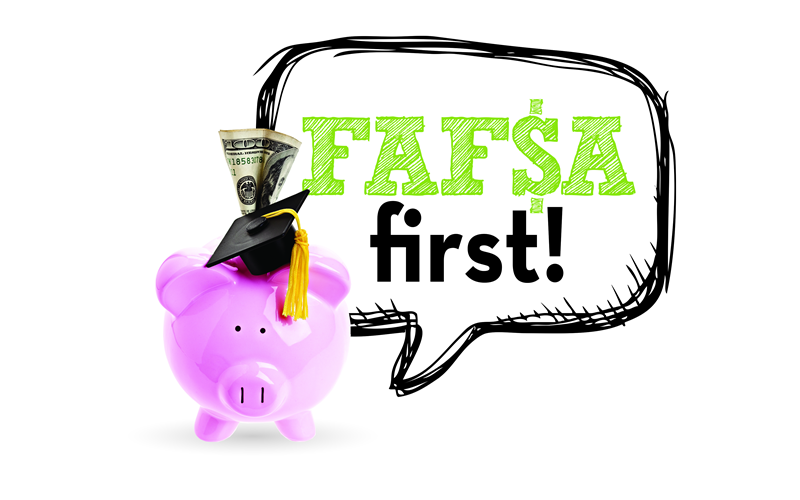 Site helps students navigate $150 billion offered annually to help millions pay for college or career school.
FutureMakers Coalition recently launched an updated FAFSA first! website at http://www.futuremakerscoalition.com/fafsafirst/
The updated website includes information, tools, frequently asked questions and a pathway for students and their parents to easily navigate and complete the Free Application for Federal Student Aid (FAFSA) online which is essential for graduating high school seniors planning on attending college or career school.
FAFSA is the only way for students to apply for federal student aid and is the largest provider of student financial aid in the nation with $150 billion offered annually to help millions of students pay for college or career school. The Florida Financial Aid application is also important for students to complete and students must complete this application for state scholarships and grants including but not limited to Bright Futures, First Generation Matching grants and the Benacquisto Scholarship.
"We are here to help no matter where a student plans to attend college or career school," said Patrice Cunningham, vice president, United Way Volunteer Center, FutureMaker. "We can assist them with completing their FAFSA, trouble-shooting and any problems they may have in finishing the Florida financial aid application for ensuring they have access to additional grant money that they may qualify for. Our team is here to not be a burden but offer relief to the schools and counselors."
Cunningham said it is important for students to file their FAFSA early so they can receive financial aid award offers from schools sooner and make informed decisions about college or career school affordability.
Parents 2020 Income Tax Return information can be used for this year's applicatoin.
"The process is easier because parents should already have their 2020 income tax information," she said. "They can even use the IRS Data Retrieval Tool to import their tax information directly from the IRS website into their FAFSA to avoid errors."
Unfortunately, many students do not fill out the FAFSA each year and leave millions of available dollars in funding on the table.
FutureMakers Coalition's FAFSA first! is available to help make the application process as easy as possible. FutureMakers has a robust team of cross-sector partners leading the FAFSA first! campaign including the United Way of Lee, Hendry, Glades and Okeechobee; Lee and Collier's school foundations; FGCU; FSW; and Future Ready Collier.
According to Cunningham, students, parents and counselors with questions can reach out to [email protected] and a financial aid representative from the team will assist them. Additional resources including a step by step FAFSA guide are available at https://www.futuremakerscoalition.com/fafsafirst/
Regionally, FAFSA completion goals have been down since 2017. Several factors have played a role in in the decline including the economic impact of Hurricane Irma, the blue/green algae and red tide events, and most recently the COVID-19 pandemic. Regionally, funding was lacking to amplify the FAFSA first! campaign, which had a positive impact on completion prior to 2017.
FAFSA first! was recently awarded a $30,000 Local Access Network  FAFSA & Enrollment Grant by Florida College Access Network to encourage FAFSA completion. Part of the grant will be used for incentives for schools with the biggest increase in FAFSA completions for each county.
"The 2022-2023 FAFSA opens October 1 so now is the time for local high school students to begin the FAFSA process," Cunningham said.
She added that many times the students do not realize that their application is not complete due to missing information and errors.
FAFSA first! will help this year's incoming senior classes and assist in county-wide Financial Aid Nights with the purpose of simplifying the complex financial aid process for prospective college and career students.
"Our FAFSA first! team of financial aid experts and partners are here to help each school in whatever capacity they need with a menu of options such as Financial Aid 101 for Fall Senior nights or FAFSA walkthrough sessions," Cunningham said.
FutureMakers Coalition is a regional collective impact initiative that has been designated a Talent Hub by Lumina Foundation in partnership with The Kresge Foundation to support local efforts to increase educational attainment. Formed in 2015 around existing regional collaborations, the goal of FutureMakers Coalition is to transform the workforce by increasing the number of Southwest Florida residents with degrees, certificates and other high-quality credentials to 55% by 2025. The Coalition is committed to creating a cradle-to-career pathway to ensure success for traditional students and adult learners. FutureMakers Coalition was one of Lumina Foundation's 75 national Community Partners in Attainment and is a member of the National Talent Network. Collaboratory provides backbone/administrative support to FutureMakers Coalition. The Coalition has grown to over 300 FutureMakers representing business, education, government, nonprofits, philanthropy, residents, and students across Glades, Hendry, Collier, Lee, and Charlotte counties.
FutureMakers Coalition encourages businesses to join and invest in sustaining this community-changing initiative by visiting https://www.futuremakerscoalition.com or emailing Tessa LeSage at [email protected].