Coalition working to increase post-secondary certification completion in Southwest Florida wins education category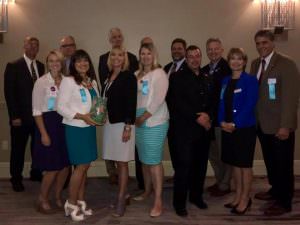 The FutureMakers Coalition was recently presented a Chrysalis Award in the education category at the eighth annual Celebration of Business & Tourism Awards.
More than 360 people attended the event at the Sanibel Harbour Marriott Resort & Spa in Fort Myers. The FutureMakers Coalition was one of six laureates chosen from 23 nominees.
The winners by category were:
Business Development: Fleamasters Fleamarket
Cultural Achievement: River District Alliance
Eco-Innovation: Rosy Tomorrows Heritage Farm
Education: FutureMakers Coalition
Sports: Perfect Game Baseball, Inc.
Sales & Marketing: Florida Everblades
A panel of judges evaluated nominees, looking at innovation in their respective fields, how they've distinguished themselves in the community and the results of their efforts to promote the area to visitors.
"It is extremely gratifying to see how far the FutureMakers Coalition has come in such a short period of time," said Dr. John Meyer, executive vice president of academic affairs at Hodges University.
"Being nominated for, never mind actually winning, the Chrysalis Award provides reinforcement for the value the community places on the need for this work. As a Workforce Now researcher, I am happy to play a part in meeting our shared goal by helping to identify areas of skills gap in the regional workforce and help bring educational initiatives to market to assist in filling those gaps."
"On behalf of the more than 200 FutureMakers throughout Southwest Florida, we are thrilled with this recognition from the Lee County Visitor & Convention Bureau and the Greater Fort Myers Chamber of Commerce," said Tessa LeSage, who as director of social innovation and sustainability for the Southwest Florida Community Foundation oversees the FutureMakers Coalition. "We know the region has to lead collectively to develop the skilled workforce needed now and into the future and create a place where people will always choose to live, learn, work and play."
The Lee County Visitor & Convention Bureau and the Greater Fort Myers Chamber of Commerce hosted the awards program and trade show.
The FutureMakers' Chrysalis video can be viewed by visiting www.youtu.be/VQQQBVhBGUU.
The goal of the FutureMakers Coalition is to transform the workforce by increasing the number of Southwest Florida residents with degrees, certificates and other high-quality credentials by the year 2025.  In 2016, Southwest Florida was one of 75 metropolitan areas selected as part of Lumina Foundation's Community Partnership for Attainment to increase post-secondary attainment nationwide by increasing the number of working-age adults with degrees and certifications.
The Southwest Florida Community Foundation serves as the anchor organization for the FutureMakers Coalition. The Coalition encourages residents to join and support this community-changing initiative. It is looking for partners from all sectors to invest resources, including time, expertise, funding and more. For more information, visit www.futuremakerscoalition.com, call 239-274-5900 or email Tessa LeSage at [email protected].