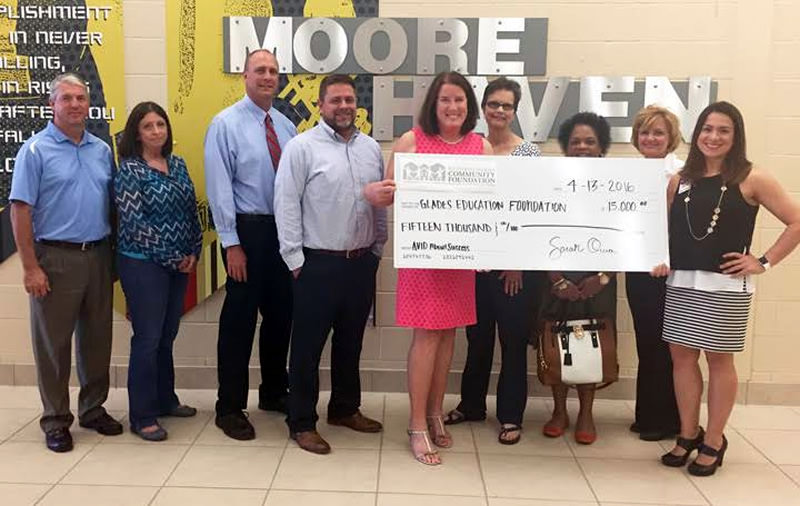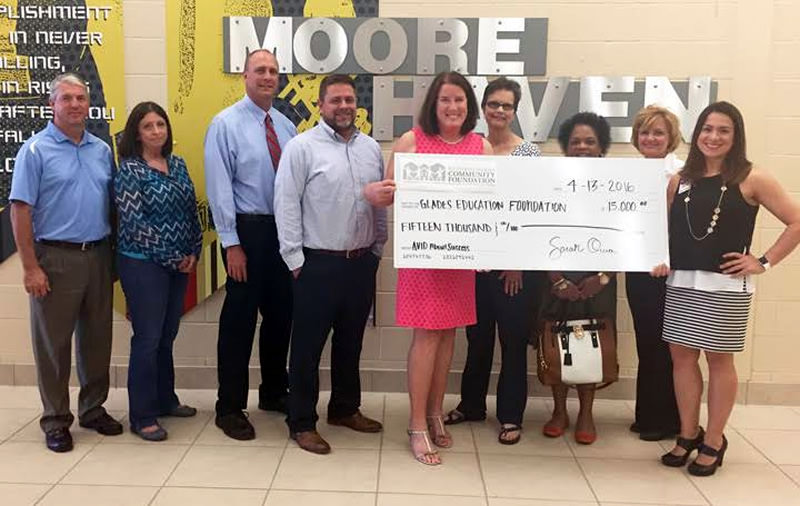 The Southwest Florida Community Foundation, a FutureMakers Coalition partner along with Lumina Foundation, has awarded the Glades Education Foundation a $15,000 grant.
The grant will be used to support the Glades Education Foundation's AVID About Success mentoring program to increase the number of students receiving mentoring and skill advancement for academic success.
AVID, which stands for Advancement Via Individual Determination, is a research-based program that brings strategies and curriculum to classrooms to prepare students, grades 6 through 12, for success in middle and high school.
According to Glades Education Foundation's Executive Director Laura Perry, the foundation plans to establish the program in grades 7 through 9 in the initial startup year at Moore Haven Middle-Senior High School and grades 6 through 8 in West Glades School, while Pemayetv Emahakv Charter Middle School will be a planning site.
"We expect to see improved enrollment in school mentoring programs within Glades County middle and high schools resulting in improved teacher-student relationships, peer support, increased knowledge of personal achievement strategies, increased knowledge of important study and test-taking skills, and increased inquiry and communication skills," said Perry. "We also hope to see an increase in the number of first-generation students matched with mentors."
Perry added that the goal is to see an increase in the number of middle school student enrollment in advanced coursework such as algebra I honors, geometry honors and biology I honors as well as honors and dual enrollment classes at the high school level.
"We expect students will continue in the AVID program through 12th grade and be accepted into a college, university or career academy," she said.
AVID students will also learn how to complete the Free Application for Federal Student Aid (FAFSA) as well as other scholarship and financial aid applications, resulting in an increased number of FAFSA completions.
The mission of AVID is for students to be focused on post-secondary education.
About the Southwest Florida Community Foundation
As leaders, conveners, grant makers and concierges of philanthropy, the Southwest Florida Community Foundation is a foundation built on community leadership with an inspired history of fostering regional change for the common good in Lee, Collier, Charlotte, Hendry and Glades counties. The Community Foundation, founded in 1976, connects donors and their philanthropic aspirations with evolving community needs. With assets of more than $93 million, the it has provided more than $63 million in grants and scholarships to the communities it serves. Last year, it granted more than $3.2 million to nonprofit organizations supporting education, animal welfare, arts, healthcare and human services, as well as provided regional community impact grants and scholarship grants.
About FutureMakers Coalition
The FutureMakers Coalition is working to increase post-secondary certification completion in Southwest Florida and promote the knowledge and skills needed for success in the workplace and in life. Formed in 2015 around existing regional collaborations, the Coalition's goal is to transform the workforce by increasing the number of college degrees and post-secondary certifications from 27 percent to 40 percent by 2025 throughout Charlotte, Collier, Glades, Hendry and Lee counties.
As one of Lumina Foundation's 75 national Community Partners in Attainment, the FutureMakers Coalition is a regional partnership involving education, government, business, nonprofit and citizen stakeholders, and advocates committed to creating a cradle-to-career pathway to ensure success for traditional students and adult learners. The Lumina Foundation is an independent private foundation committed to increasing the proportion of Americans with high-quality degrees, certificates and other credentials to 60 percent by 2025.
The Southwest Florida Community Foundation serves as the anchor organization for the Coalition. The FutureMakers Coalition's collective effort encourages residents to join and support this community-changing initiative. It is looking for partners from all sectors to invest resources, including time, expertise, funding and more. For more information, visitwww.FutureMakersCoalition.com, call 239-274-5900 or email Tessa LeSage at [email protected].
Contact: Melinda Isley, APR, m.creativepr, 239-274-7736, cell: 239-565-1630, [email protected]