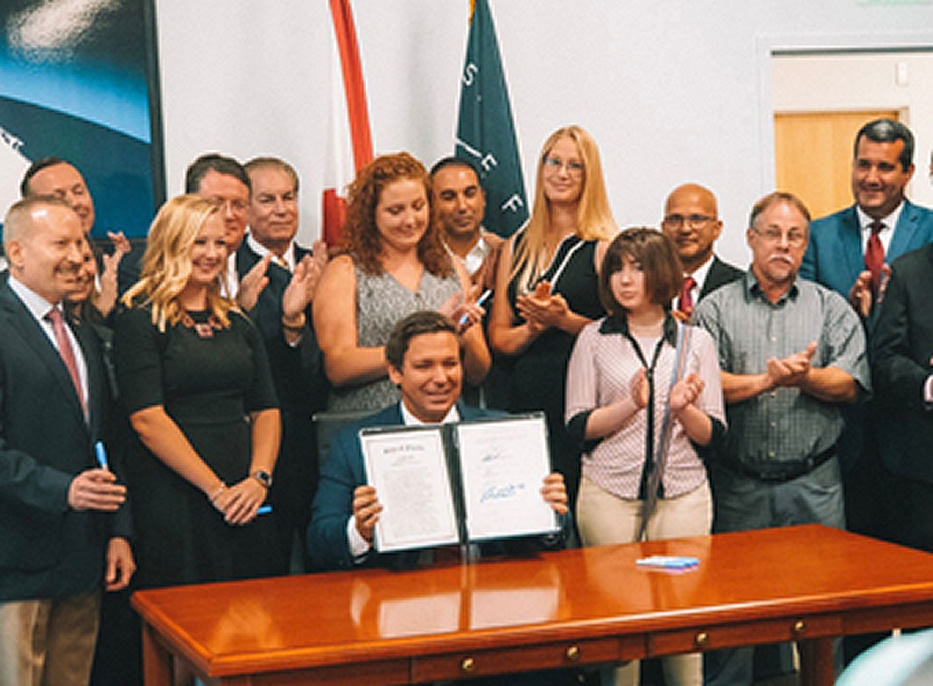 SAIL to 60 initiative sets the goal for at least 60 percent of working-age Florida adults to hold a high-value postsecondary degree, certificate or training experience by the year 2030.
On June 24, Florida Governor Ron DeSantis signed House Bill 7071 into law, which among its many provisions, sets in statute a postsecondary attainment goal for the State of Florida.
The SAIL to 60 initiative sets the goal for at least 60 percent of working-age Florida adults to hold a high-value postsecondary degree, certificate or training experience by the year 2030.
Southwest Florida's FutureMakers Coalition was credited in part with helping to influence the state's adoption of this goal, according to Laurie Meggesin, executive director, Florida College Access Network.
"The FutureMakers' leadership, dating to the very early days of this effort, has been a major champion of ensuring all Floridians have the opportunity to attain a degree or certificate beyond high school, and helped the legislature understand the importance of this goal," said Meggesin. "Having a FutureMakers partner from Lee Health present to the postsecondary education committee alongside FCAN and giving FCAN the opportunity to tell FutureMakers' stories to illustrate the power of collective impact helped lawmakers see the value and possibilities for the good that can result when local leaders and stakeholders work together to solve complex social issues."
Established in 2015, FutureMakers' goal is to transform Southwest Florida's workforce through collective leadership along the cradle-to-career pathway. The pathway begins with early childhood learning and ends with postsecondary credential attainment and job placement. The coalition has grown to over 300 FutureMakers partners representing business, education, government, nonprofits and philanthropy across Glades, Hendry, Collier, Lee and Charlotte counties.
"The work that we are doing with the FutureMakers Coalition is creating unprecedented opportunities to create more dynamic relationships between employers, education, government agencies and non-profit organizations," said Michelle Zech, Strategic HR Business Partner, Lee Health. "With an extremely low unemployment rate and the competition for qualified employees, it is crucial that we work collectively to stimulate interest in and facilitate development of a variety of post-secondary credentials, degrees and certificates, to create a more skilled workforce. It was an honor to be able to share our success with the postsecondary education committee and to see them act on it for the betterment of our workforce and economy, state-wide."
The new statute calls for the Florida Board of Education and Board of Governors to collaborate on several initiatives, including support for Florida College Access Network (FCAN)-coordinated initiatives such as the FAFSA Challenge as well as FCAN-supported "public-private partnerships" of cross-sector leaders and organizations that work together to solve community-specific issues related to attainment.
Meggesin added that the Talent Development Council (formerly the Higher Education Coordinating Council) will be developing a strategic plan to achieve the goal.
"This is a real testament to the FutureMakers' partners' incredible work in our region and throughout the state," said Sarah Owen, president and CEO of the Southwest Florida Community Foundation, the backbone organization for FutureMakers Coalition. "State leaders are not only paying attention to the work being done in our five-county region, but they also recognize that local and regional collective action is essential to achieving the SAIL to 60 goal."
The FutureMakers Coalition was one of Lumina Foundation's 75 national Community Partners in Attainment. Residents are encouraged to join and support this community-changing initiative. For more information or to get involved, visit www.FutureMakersCoalition.com, call 239-274-5900 or email Tessa LeSage at [email protected].
About Florida College Access Network
Florida College Access Network (FCAN) is Florida's first collaborative network committed to ensuring all Floridians have the opportunity to achieve an education beyond high school and prosper in Florida's dynamic economy. Its mission is to create and sustain a statewide network that catalyzes and supports communities to increase college and career preparation, access, and completion for all Florida students. For more information, visit floridacollegeaccess.org.
Contact: Melinda Isley, APR, m.creativepr, 239-274-7736, cell: 239-565-1630,