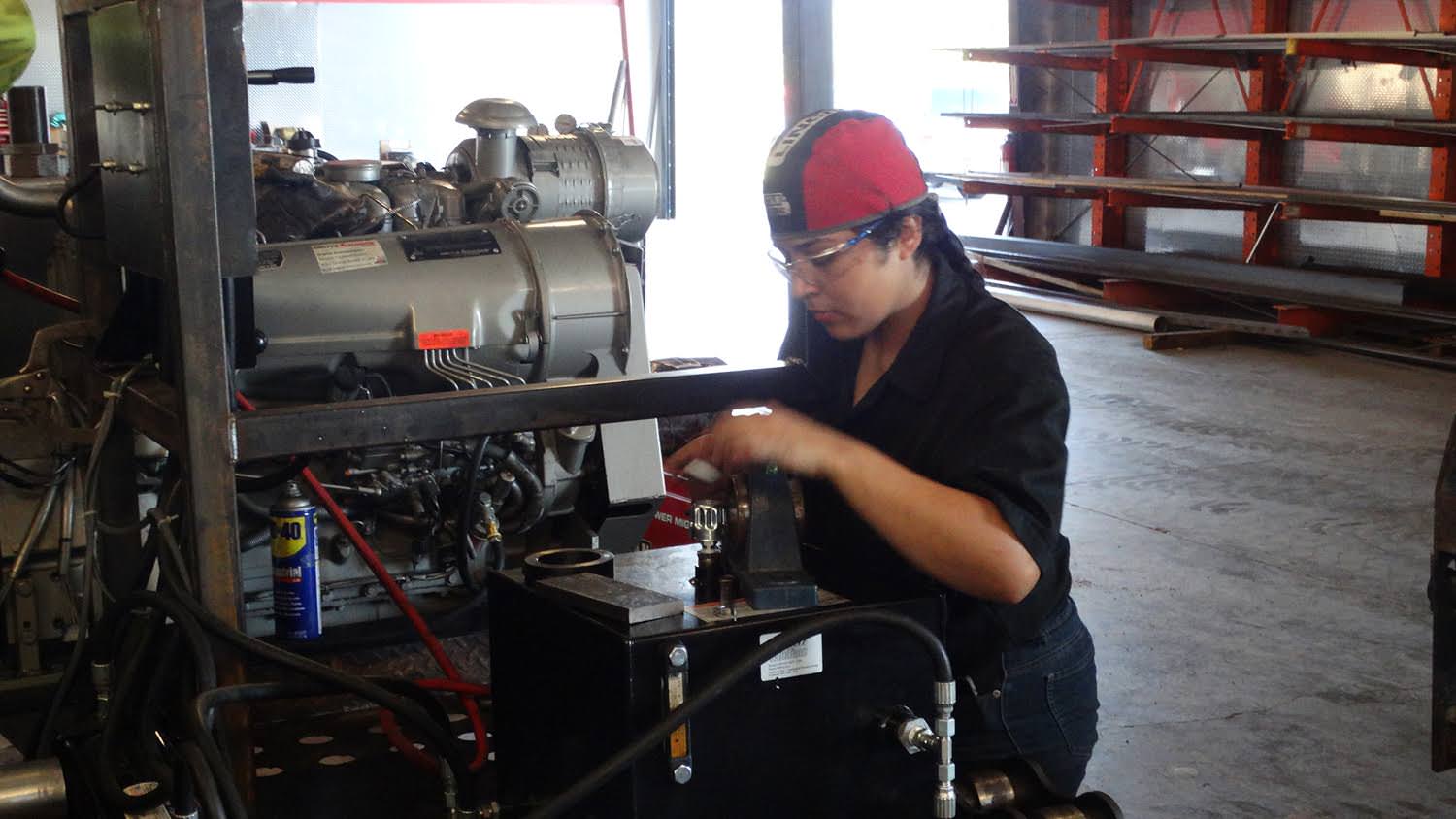 Janet De La Cruz has always been inspired by the teachers in her life. When she was younger, she first wanted to be an elementary school teacher and later a speech language pathologist.
"In elementary school, I had the most amazing music teacher so that was my inspiration for wanting to teach," she said.
Her career would take a drastic turn as a student at East Lee County High School, once again thanks to a teacher.
"My teacher, Mr. Filler was talking to me about what type of electives I could take," she said. "He talked about nursing, fire fighting and emergency technicians, but those weren't really me."
Then he told her about welding.
"He said 'Basically you'll be playing with fire,' and I said 'That sounds awesome!'"
From the first class, De La Cruz was hooked and fell in love with welding. That elective led her to pursue dual enrollment her senior year in order to earn an industry certification through Fort Myers Technical College.
The welding technology class at Fort Myers Technical College provides a fast-paced, high heat learning environment for its students. De La Cruz was the class's only female welding student.
In May, she became Lee County's first female student to receive an American Welding Society certification and recently started her full-time career as a welder with Direct Industrial Products and Machining in LaBelle.
"Women are better welders," said Michael Landrum, welding instructor at FMTC. "They have the three things that all my students need to succeed: patience, attention to detail and focus."
When Brent Kettler, executive director with the Hendry County Economic Development Council and a member of the FutureMakers Coalition, learned of De La Cruz's certification, he reached out to Mark Chapman, president of Direct to tell him about her accomplishments.
Direct is an industrial construction supply store and fabrication/machine shop that has partnered with the FutureMakers Coalition in the past on student mentoring. Chapman offered De La Cruz a position with his company the day of her interview.
"Janet is another example of how workforce development is a win-win for our community," said Chapman. "We, like many other businesses in Hendry County, are in constant need of qualified workers for hard-to-fill trades positions. When business and education come together, not only are we paving the future for that student, we are providing them with the proper tools to work in the industry that they strive to do well in."
"This is a great example of how the FutureMakers Coalition's effort to connect education and business to transform the workforce is working," said Kettler. "Business education partnerships are the key to filling in-demand jobs, improving the economy and creating social mobility."
"Often times students will get a certification or degree but then don't know where to turn to get a job," De La Cruz added. "FMTC was so great because our instructor would bring businesses into the school to talk to us and tell us about career opportunities. It was really helpful for a student like me who wanted to go to work as soon as I finished school."
The FutureMakers Coalition's goal is to transform our workforce by increasing the number of Southwest Florida residents with degrees, certificates and other high-quality credentials by the year 2025.
The Southwest Florida Community Foundation serves as the anchor organization for the Coalition. The FutureMakers Coalition encourages residents to join and support this community-changing initiative. For more information, visit www.futuremakerscoalition.com, call 239-274-5900 or email Tessa LeSage at [email protected]