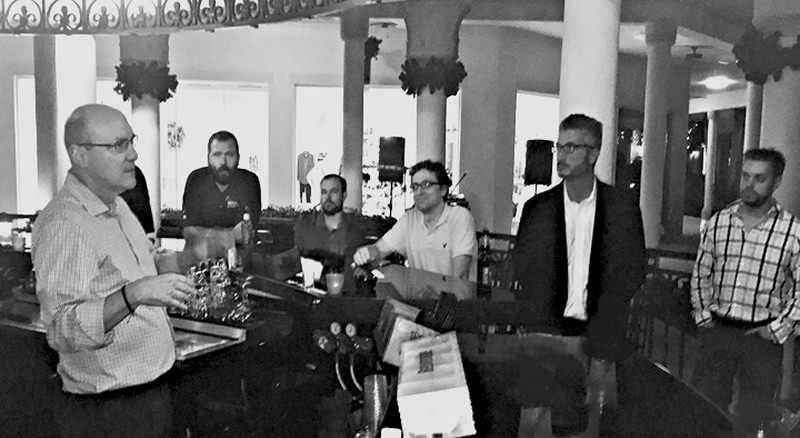 Representatives from a dozen different technology enterprises gathered December 3 to formally launch a new collaboration aiming to advance greater awareness, resources and support for tech professionals based in Southwest Florida. Branded as The Sunset Coast Technology Consortium (SCTC), the gathering was comprised by software developers, executives and tech-centric entrepreneurs from enterprises that included Agent Shield Technologies, EyeMD Healthcare Systems, Flightdocs, Geofeedia, HyperTeam, Interactyx, Loop & Tie, MassiveU, REfindly and Testimonial Tree; all producers of proprietary software with business operations based in Southwest Florida. Through the auspices of the SCTC, the collective is determined to serve as a unified voice for the region's growing technology community.
Testimonial Tree CEO & SCTC Co-founder Jason Dolle welcomed participants explaining that what the group could accomplish together is greater than what any might accomplish on his own, yet also spoke of several alliances that would be advantageous to Consortium Members. From supporting programs like Technology Round Table discussions facilitated by the Bonita Springs Chamber of Commerce, education initiatives like the FutureMakers program sponsored by Southwest Florida Community Foundation and Fusion Pointe, which provides beneficial mentoring services particularly crucial to firms seeking investment support.
"By working together, we can help create a better environment for not only doing business in this region, but succeeding in business. And for young people wanting to pursue careers in technology, we can help make sure they know that they don't have to leave this market because great opportunities exist right here in Southwest Florida," said Dolle.
Dolle offered insight on a few upcoming events and projects the Consortium is now directing, including the deployment of a website that will highlight news and information solely dedicated to the area's tech community. Consortium Members were also invited to a special December 9 "Meet & Greet" which is hosted by the Bonita Estero Economic Development Council and sponsored by Fine Mark National Bank & Trust.
As part of the Consortium's mission to create greater awareness, REfindly Content Developer and SCTC Director of Communications Bill Schiller acknowledged, "Unlike other professional groups made-up of businesses who use technology, you are the visionaries who actually create the technology businesses use and you're essential to our region's economic sustainability." While each Consortium Member may have a unique product or service, Schiller stressed common areas of concern all share. "From workforce development and funding to infrastructure improvements and more, there are interests you collectively share and your voice deserves to be heard," he said.
Schiller went on to introduce Naples Daily News Editor Manuel Garcia who affirmed the publication's willingness to provide greater coverage of local technology news with support from SCTC. The group is also organizing a February, 2016, meeting that will take place at Naples Daily News' headquarters on Immokalee Road in Naples.
As plans for 2016 continue to formalize, those who attended this first gathering of the Sunset Coast Technology Consortium expressed enthusiastic support as well as a bit of surprise by the number of enterprises which were represented. As one said, "These are busy people and it takes something extraordinary to get everyone together in one placeat one time… especially if it means stepping away from their computers for any length of time."
As the voice of the tech community, the mission of the Sunset Coast Technology Consortium is to provide greater awareness, advocacy and resources for technology professionals in Southwest Florida. For more information, send an email to [email protected] or visit www.sunsetcoasttech.com.