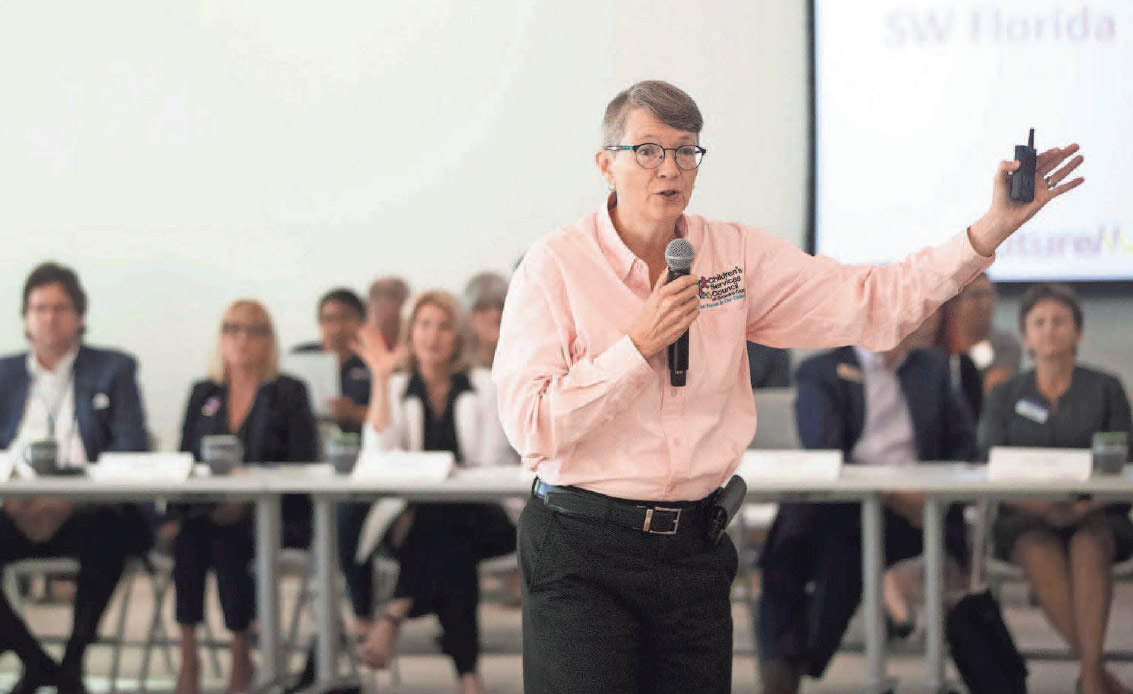 Tessa LeSage did a bit of a dance upon taking the microphone for her turn to inspire a group of about 150 Southwest Florida community leaders uniting as the "FutureMakers Coalition."
But then LeSage, the director of social innovation and sustainability for the Southwest Florida Community Foundation, delivered an immense challenge to the employers and educators on hand. The group has set a goal to boost the percentage of regional college or secondary degree holders from 38% to 55% within the next six years.
"We're going to talk numbers, and some of the numbers aren't that great," LeSage said Thursday morning at the Collaboratory near downtown Fort Myers at Future Makers' annual "breakfast of champions."
In 2013, about 37% of the five-county region had secondary degrees. In 2018, that percentage had nudged upward to 38%, a gain of 21,059 college degree holders to 594,000, according to a 2018 report.
"We have to add 150,000 more degrees to get to 55% by 2025," LeSage said. She then returned her tone to upbeat. "I think we can do it. But the system has to change."
For more than four hours, the audience listened to and participated with topics of what some of the speakers labeled as "uncomfortable."
Topics such as institutional racism, addressed by Sue Gallagher of the Children's Services Council of Broward County, and income equality, addressed by FGCU President Mike Martin, were among them.
Martin urged those in the room to spend an hour people-watching off Fifth Avenue in Naples and then driving to Immokalee and doing the same. Or from Sanibel Island to Lehigh Acres. Or from West Palm Beach to Belle Glade.
"The distance is short, but the gulf is enormous," Martin said of the economic disparity. "This is an issue we have to address. How can we give every student in this community, regardless of background, the best jump-start we can to get them in the system?"
Florida has three of the 20 wealthiest zip codes in the nation, Martin said, naming 33109 (Fisher Island, Miami), 33480 (Mar-a-Lago, Palm Beach) and 34102 (Naples), noting they are near some of the poorest.
"We're focused on the notion that we can keep our graduates in the workforce here, then we can make some changes here," Martin said.
Gallagher then delivered her presentation that focused on racism. She gave a brief history lesson, looking at Bacon's Rebellion in 1674, which developed the slave codes and message that black slaves were not human.
She described how it took almost 200 years to reach the Civil War in 1861-65 and ended with the "black codes," or Jim Crow laws, which developed the message that black Americans should be separate from whites. Then she looked at the ensuing 100 years, which led to Civil Rights legislation of 1964. By no means did these new laws end systemic racism, she said.
"How could those plantation owners sleep at night?" Gallagher said. "And the answer is they were taught that blacks were not human. And this is a part of who we are. All of our systems, all of our institutions grew up under Jim Crow.
"Racism is like a virus. You shoot it with antibiotics, it gets better."
Gallagher issued a challenge to the leaders in the audience: to spark uncomfortable but civil conversations about racism with others in the community.
"I want to thank this coalition for getting these conversations started," said Sarah Owen, president and CEO of the Southwest Florida Community Foundation, who facilitated a roundtable discussion related to those topics with Gallagher.
Other topics included employment. The average annual wage of $42,114 lags behind Florida's average of $47,779 and $55,331 across the country, said Debbie Psihountas of Florida Southwestern State College, who addressed workforce dynamics along with Chris Westley and Aysegul Timur of FGCU and John Meyer of Hodges University.
Lawyers, nurses and teachers are among the vocations  with the highest opportunity for employment in the region, Timur said.
One challenge moving forward will be for adapting to the loss of jobs to robotics and automated computer systems, which are taking away from jobs in banking, food service and other industries, said Kathy McDonald of Florida College Access Network.
"Our mission is to prepare today's students for tomorrow's jobs," she said.
John Talmage, director of Lee County economic development, concluded with the urgency and hope for more diversity of employers in the region. He noted the "Publix phenomenon," that there are no Publix grocery stories fronting U.S. 41 between the Caloosahatchee River and Alico Road, the longest such stretch between there and Tampa.
"We have a strong, east-west nexus," Talmage said. "So even though our communities are organized east and west, our investments are organized north and south."
The conversations, ideas and the statistics discussed Thursday would reach a wider range of other community leaders who weren't in the room via dialogue from those who were, LeSage said.
"I think today demonstrated how you can make more progress when we work together," LeSage said. "We came to have conversations about systems changing. People want to have that conversation. That creates an energy that will hopefully lead to more people discussing this. It takes a lot of effort to bring people together like this."