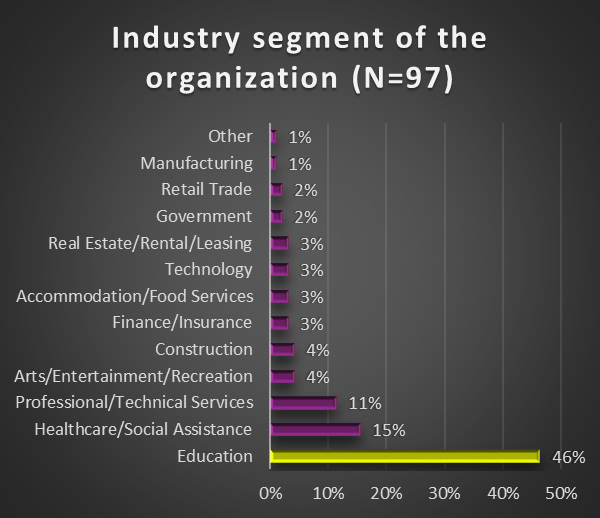 FutureMakers Coalition conducts the Workforce Employer Survey annually and uses the data to inform our SW Florida network, specifically the education partners, about employer needs and opportunities to work better together to ensure the desired qualified workforce is available to the region's employers.  COVID presented many challenges during 2020, so the employers' input is particularly important as the region began to open and return to normal earlier this year.  We are very pleased that 100 organizations responded to the 2021 survey – almost triple the number that replied to the 2020 survey!  This article provides a preview of some of the survey data.
Of the organizations that provided information on their industry segment, 46% replied that they are in education. These education organizations ranged from larger, regional universities and colleges to
mid-sized specialized academies to smaller childcare organizations. The education industry may be over-represented in this survey since relatively few of the largest employers in SW Florida from the retail trade, construction, and accommodation/food services industry segments1 replied to the survey. Therefore, the survey results should be interpreted with caution.
1 Source: U.S. Bureau of Labor Statistics, Quarterly Census of Employment and Wages 2019
In the next 6 months as SW Florida continues to reopen, 79% of the surveyed organization reported that it is very likely or likely that recruiting and hiring new, qualified employees will be a priority in 2021. Only 5% of organizations reported that it is unlikely or very unlikely that recruiting and hiring new, qualified employees will be a priority in 2021. Similar findings were observed in past years' surveys.
More importantly and speaking to FutureMakers Coalition's mission, 64% of the organizations indicated that they would pay a higher starting salary to potential employees who have a post-high school credential (degree), certificate, or industry-recognized certification. Only 10% of the organizations replied that a post-high school credential would not lead to a higher starting salary.
The full Workforce Employer Survey report will be distributed in July and will explore in more detail the needs and opinions of SW Florida's employers.