You are here:
Home
/
FAFSA Toolkit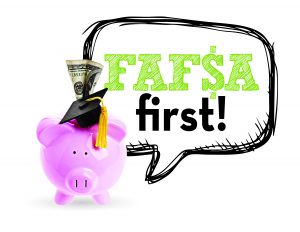 FAFSA first! Practitioner's Toolkit
As part of the Southwest Florida's FAFSA first! campaign championed by the FutureMakers Coalition Access and Entry Team, a toolkit for practitioners was created to identify national best practices in FAFSA, the Free Application for Federal Student Aid, completion initiatives.  From information at a glance, to hosting a financial aid event, the resources in the toolkit below provide implementation guidance for partners working to increase FAFSA completion by 5 percent across the region.
Don't forget to find downloadable marketing handouts and posters at www.fafsafirst.org to use in your community.
FAFSA Communications – Southwest Florida Marketing Materials
There are lots of changes to FAFSA this year and many students don't know about or understand the opportunity FAFSA completion provides in promoting access to college, career school, and technical training programs.  A marketing campaign aimed at helping Southwest Florida communicate about FAFSA and recent is available for you to use.
Posters/Flyers – There are two sizes available for use. The posters are sized to print on 11×17 paper and the flyers are sized to print on 8.5×11 paper. The posters and flyers ask a series of simple questions:
For communication channels already established to reach students and parents, customize and use the following template copy to promote FAFSA and the campaign.
FAFSA at a Glance
These resources provide quick, easy-to-use information when looking for some fast FAFSA facts.
Hosting a FAFSA Event
Do you plan to host a financial aid or FAFSA event in your school district? These resources can provide some guidance and quick tips on being prepared.
Information for Families
Students and parents alike may turn to you for advice when filling out the FAFSA.  As a practitioner, these resources can help guide you to the information that families are looking for.
Training for FAFSA
As a practitioner, it's important to know the ins-and-out, and tips and tricks of mentoring students in FAFSA completion.  These resources serve as a guide to training counselors and college access professionals in the world of financial aid.
Myths about FAFSA and Financial Aid
The details of financial aid and FAFSA can be confusing and misunderstood.  The resource below outlines some common misconceptions.
Don't forget to check out these great resources as well:
Want to try it out first?
See below for a link to a demo site so you can simulate different scenarios and view questions.
Fill out the FAFSA – Demo:  http://fafsademo.test.ed.gov
Username: eddemo  Password: fafsatest